Research to keep EU animal production at the forefront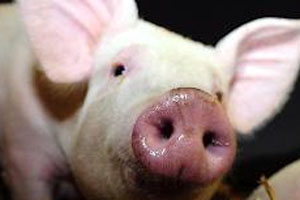 Making intensive pig and poultry production in the European Union more competitive and profitable through sustainable intensification – that is at the core of the Prohealth project, coordinated by Newcastle University.
A consortium of 22 academic, industry and private enterprise organisations from 11 countries were granted 11,9 million Euro's by the EU to identify new solutions to reconcile modern animal production systems and sustainability within the Union. "We have to invest in ways to get more competitive, because at this moment we are not.
This project is designed to help our industry to lead again. Sustainable intensification is the way forward", project coordinator professor Ilias Kyriazakis of Newcastle University stated.

Zoetis director of strategic alliances dr. Theo Kanellos is very pleased that this project was given the grand: "This is really unique, money wise, but also on the aspect of what the EU expects from us. This project was designed to deliver. Within the 5 year time frame we will deliver novel diagnostics to predict the propensity of production disease development in animals, communication tools for increasing awareness, vaccines, management tools and so on. At the end of the day the veterinarians in the field and the farmers want an answer to their problems. With all the partners involved, some working on a farm level, our research will definitely reach the farmers in Europe, giving them the tools to be more competitive."

This was underlined by Anne Marie Neeteson, member of the European Forum of Animal Breeders: "There are a lot of challenges in producing more food with less and less farmers. All facets have to be just right, feed, health, management, disease control and of course management. Good stockmanship has 3 pillars, knowledge, skills and the personal and professional quality of the farmer. But to be able to express professional quality, the farmer needs knowledge and skills. Here is where the Prohealth project can make the difference."

Under the coordination of Newcastle University, UK, the following partners are involved:
•accelopment AG, CH
•Aviagen Ltd, UK
•Conseil et Compétences en Productions Animales Société Coopérative Agricole, FR
•Cooperativas Ourensanas S Coop Galega, ES
•European Forum of Farm Animal Breeders, NL
•Institut National de la Recherche Agronomique, FR
•JSR Genetics Ltd, UK
•Agrifood Research Finland, FI
•Zoetis International Services SAS, FR
•Poultry Health Services Ltd, UK
•PigCHAMP Pro Europa S.L., ES
•Danish Agriculture & Food Council, DK
•Warsaw University of Life Sciences, PL
•Tivix Europe SP ZOO, PL
•University of Copenhagen, DK
•Universiteit Gent, BE
•The University of Nottingham, UK
•The University of Reading, UK
•Vedanko BVBA, BE
•Vitatrace Nutrition Ltd, CY
•Veterinary Research Institute, CZ
Read more in the next edition of World Poultry, Pig Progress, AllAboutFeed.