Rennes counting down to 23rd SPACE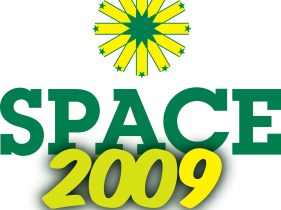 The city of Rennes, France, is getting ready for the 23rd edition of SPACE, the French annual animal livestock show which starts tomorrow.
The exposition, held at Parc-Expo of Rennes Airport, will start at Tuesday, September 15 and last until Friday, September 18. The show offers the latest developments in pig, poultry, dairy, sheep, cattle and rabbit production, as well as new developments in the feed sector.
The organisers expect 1,273 exhibitors, of which 353 (30%) will be coming from abroad, with over 1,500 brands present. In total, 1,211 direct exhibitors and co-exhibitors will be present, of which 176 companies are new. Another 62 companies will be represented.
Surface
Total net surface of the exposition is over 60,000 m2, which includes booths, animal presentations and animations. This is an increase of 1,200 m2 in comparison to last year. The Parc-Expo offers in total 100,000 m2 gross surface. International exhibitors will occupy over 16,000 m2.
In the last couple of years, visitor numbers have exceeded 110,000. In total, about 9,000 international visitors are expected this year.
Animal presentations
Several animal presentations are planned, e.g. around cattle breeds like Simmental and Salers and the ovine breed Suffolk. In addition, more attention than usual is planned for agri-energy solutions. A total of 57 innovations will be awarded with an Innov'space.
The show will be opened on Tuesday by the French agricultural minister Michel Mercier.
Read more about SPACE, France, its agriculture and the financial crisis in a special weblog©by Pig Progress correspondent Philippe Caldier.
Related website:
SPACE