Record number of visitors for AgroFarm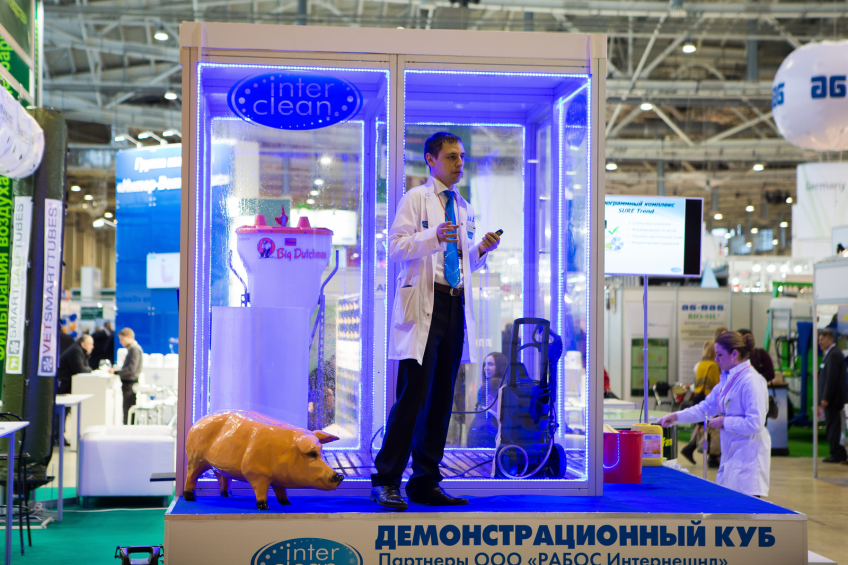 With more than 12,000 visitors, the AgroFarm exhibition in Moscow (February 3-5, 2015), reached its best attendance figures yet, with Russian farmers travelling from as many as 70 different regions to attend.
360 exhibitors from 29 countries covering dairy, cattle, pig and poultry sectors filled over 16,000 square-metres of indoor space. An area was also dedicated to goat and rabbit production. The show  included a technical programme that provided visitors with 55 forums, conferences and seminars events on a range of specialized topics such as biotechnology. There was a special emphasis on biosecurity, which is multi-faceted in the livestock sector and putting in place strict management protocols extending across each stage of production, regardless of animal species. The technical programme also provided in-depth information on specialised topics in the area of breeding, health, feeding, husbandry and management.
Russian livestock farmers looking to expand production
Pig farmers made extensive use of the AgroFarm exhibition this year, participating in a range of talks on the prospects of the Russian pig production, access to feed under current import restrictions and building the domestic pig breeding sector. As a result of the embargo on imports imposed by Western nations, Russian livestock farmers are looking to expand production. This is confirmed by the preliminary results survey which shows 61 percent of farmers are planning to invest in the next two years.

The next AgroFarm will take place 2-4 February 2016 at VDNH exhibition centre, Moscow, Russia.