Rallies held for Canadian pork producers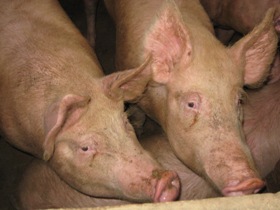 Canadians turned out in their hundreds to pledge their support to pork producers at a lunchtime rally in Edmonton, the capitol of stricken province Alberta.
Free pulled pork sandwiches were handed out to challenge misconceptions about the so-called 'swine flu' and the damage it is having on the local pig producing industry. Organisers estimated serving up roughly 2,000 sandwiches during the three-hour event.
"I'm down here to support the pork producers and to get a free sandwich, which is always good," said Inge Nielsen. "I'd like to show my support and say, yeah, of course eating pork is not going to give you the flu."
Pork bans
About 10 countries, including China, banned Canadian pork products last week after the H1N1 influenza A virus was found on a central Alberta pig farm, even though health and veterinary officials have said there is no risk of getting the virus by eating pork.
Roy Kruse from Alberta Pork said by staging the event, producers wanted to assure Canadians that the Canadian pork supply is safe. "Obviously you can see by the numbers that quite a few people come out and they're eating pork, which is what it's all about," he said.
Big losses
Mark Wipf, a delegate with the industry group Alberta Pork, said he has been losing $10,000 a week since prices dropped in the wake of fears over swine flu. The hog industry has suffered through a few tough years and things were on their way up when prices started to drop, he said.
A similar rally is planned in Calgary.