Rabobank: Foot-and-mouth disease threatens China's pig sector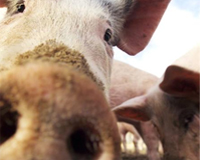 A resurgence of a variant of foot-and-mouth disease is threatening China's pig supply and underpinning pork prices, a senior industry analyst with Rabobank Group said.
The disease, which affects most parts of the world that have major animal husbandry industries, creates the risk of pork prices continuing to keep food costs elevated at a time when Beijing is seeking to combat high consumer-price inflation.
"Hog inventories have risen a bit but disease is quite serious," Chenjun Pan said. "From the industry, we know the disease is coming back and it might worsen depending on the weather change and the vaccination and sanitary measures taken by the farmers."
Average wholesale fresh pork prices tracked by the Ministry of Commerce have fallen 3.7% this week since reaching a record CNY26.44 (€2.98) a kilogram in mid-September.
However, October prices are still up about 45% on year, suggesting hog supply hasn't significantly improved, Pan said.
"In the second half of the year, foot-and-mouth disease will continue to be prevalent, especially in pig populations that were already affected last year," the Hunan Province Pig Production Technique System, a provincial-level think tank, said in a report widely carried among industry websites last week. Hunan is China's major pig-producing province.
Chinese veterinary authorities reported an outbreak of the disease in Ningxia Autonomous Region last week to the World Organization for Animal Health.
China also reported an outbreak among swine, sheep, cattle and goats in Guizhou province in July and among pigs in Xinjiang Uighur Autonomous Region in March.