PRRS virus outbreak hits Burma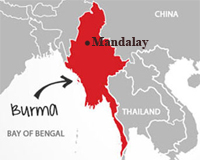 An outbreak of Porcine Reproductive and Respiratory Syndrome (PRRS) has struck in Burma. The disease outbreak occurred in Mandalay, the country's second biggest city.
According to the Mandalay Division Health Department (MDHD) since 4 March, 559 pigs were confirmed to have PRRS, 210 of them died.
Currently farms are being inspected and there are preparations tackle the outbreak underway.
People not eating pork meat
According to a news report, a resident in Mandalay stated "Some infected pigs died because of the disease, and then some pork butchers reportedly sold the meat at low prices. But now, after many pigs have died…people aren't eating pork."
It is said to be first case of PRRS infection in Burma. The outbreak affected Aungmyaythasan, Chanayethasan, Mahaaungmyay, Chanmyathasan, Pyigyitagun, Amarapura and Madaya townships in Mandalay Division and Sagaing in Sagaing Division.
The World Organisation for Animal Health confirmed the PRRS outbreak.