PRRS still sweeping through Myanmar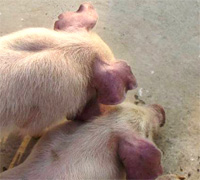 Reports state that PRRS is making its way through Myanmar, having reached the Irrawaddy region and Mon State in the south east of the country.
The disease was first discovered in the Mandalay area in February. Six regions have thus far reported outbreaks of the disease, the regions are Naypyitaw, Magway, Pegu, Rangoon, Irrawaddy and now Mon states.
The disease situation has caused the price of pork to plummet to half of what it was. "Earlier the price of pork thigh was 6,000 kyat (about US$ 8) per 1.6 kg but many people bought it. Now the price is just 3,500 kyat but people don't want to buy," said a pork butcher.

The Burmese governments have made efforts to put a stop to the spreading of the disease, but these have proven ineffective. There have also been awareness campaigns by state-run newspapers since February. Despite these measures, the disease continues to spread.
"If they hear that the disease has spread to a ward, they will conduct an awareness campaign without enthusiasm only in the neighbouring wards. It's not effective", he said. The disease has spread for a long time. They know that it is out of control. So, they should go to villages and townships in states and regions to talk directly with people in the areas. Advising people in only some areas is not enough. Some people do not read state-run newspapers", he said.
About PRRS

Porcine Reproductive and Respiratory Syndrome Virus (PRRSV), also known as Blue-Ear Pig Disease, is a virus that causes a disease of pigs, called Porcine Reproductive and Respiratory Syndrome (PRRS). This economically important pandemic disease causes reproductive failure in breeding stock and respiratory tract illness in young pigs. Initially referred to as "mystery swine disease" and "mystery reproductive syndrome," it was first reported in 1987 in North America and Central Europe. (
Wikipedia
)