PRRS spreading in Vietnam, new outbreaks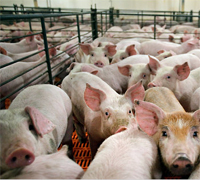 According to deputy director of the Animal Health Department in Vietnam, Dam Xuan Thanh, there have been new outbreaks of Porcine Reproductive & Respiratory Syndrome (PRRS) which are being discovered in northern parts of Vietnam.
The Deputy further added that the hot weather in the north has set favourable conditions for the spread of PRRS, and some parts of the country were not on high alert in preventing the disease. As there have been actions such as failing to report affected cases or not culling infected pigs.
The northern provinces affected are:
Bac Giang
Nam Dinh
Phu Tho
Dien Bien
Yen Bai
In Dien Bien province, the disease has caused the culling of more than 8,800 pigs while more than 2,600 pigs in Yen Bai province were infected by the virus. Bac Giang province is the most recent province to have been affected by PRRS.
The animal health department is attempting to control the situation in affected provinces, also vaccines have been provided. Phu Tho province's animal health department head, Nguyen Tat Thanh, has stated that the province had set up six quarantine stations with people on guard to check animals and poultry which are transported into the province. These measures are in place to prevent the spread of PRRS.