PROVET implements piglet restocking program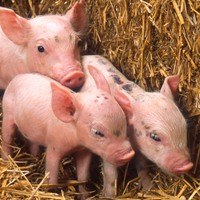 The Philippine Department of Agriculture, through the Regional Field Units (RFUs) and in coordination with the Office of the Provincial Veterinarian recently launched the "Piglet Restocking Program" in the province of Antique.
The objective of the programme is to increase pork production in Regions III, IV-A and Regions V and VI to be able to meet the demand in Metro Manila calculated to be realisable and to reach the consuming public in time for the Christmas season.

Pork shortage
The programme was undertaken to cushion the impact of pork shortage in Metro Manila, resulting from pork inventory losses suffered by Regions III and IV-A when an outbreak of animal diseases hit their swine industry last year.

Neither Regions II, IV-B and V could sufficiently supply pork to Metro Manila, because they too experienced a drop in pork production during the prior years.

Piglet subsidy
Meanwhile, out of 181 beneficiaries allotted for the province of Antique, partial deliveries were already made among the municipalities of Patnongon, Barbaza and Tibiao equally receiving 20 piglets each through piglet subsidy at the cost of P1,000 (€15) per piglet. These shall be distributed at a minimum of two piglets per swine raisers.
The programme will continue until the objective is achieved and the top pork producing region supplying Metro Manila has recovered from their losses in the swine industry.
Related Website

•
Philippine Department of Agriculture
Click here for the free Pig Progress newsletter