Profits for German piglet producers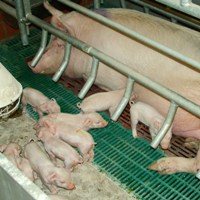 December 2008 has shown profits for German piglet producers. An increase in piglet prices and a decrease in piglet feed and energy prices contributed to this positive development.
On the basis of predictions by the German statistics office ZMP, for producers it was the first time since March 2007 to make profit with piglets. Ever since, production of piglets had not been profitable.
At the change of the year 2007-2008, producers lost about €25 per piglet. Ever since, prices for piglets have gone up, but still 2008 was a year of losses. On average, sow owners sold the animals about €10 under the production price.
In the New Year, piglet trade has gone better, despite fluctuating prices for finishers. Low temperatures, decreasing feed prices for finishers and hopes for more stable pig prices have given a positive impulse to the market for piglets. Pig prices on the Hanover pig market from February to April are expected to be about €58,70 per piglet of 25 kg.
Related website
• ZMP©