Product: Skin cleanser and surgical scrub for animals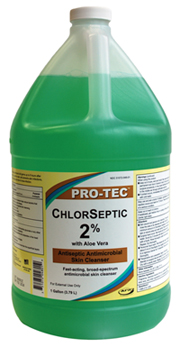 Aurora Pharmaceutical has introduced a new skin cleanser and surgical scrub, Pro-Tec ChlorSeptic 2% with Aloe Vera. This new product contains Chlorhexidine and is labeled as an antiseptic antimicrobial skin cleanser.
Chlorhexidine scrubs have shown to be more effective in killing bacteria than povidone-iodine scrubs, plus they have residual effects lasting up to six hours.

This is a cleaning product for hands and for the surgical area of any animal.
Repeated hand washing and scrubbing create cracks, peeling skin and fissures in the skin. Adding Aloe Vera provides numerous benefits:
·
Aloe Vera is an excellent skin moisturiser that keeps the skin flexible by giving oxygen to the cells which in turn increases the strength and synthesis of skin tissue.
·
Aloe Vera helps reduce inflammation.
·
Aloe Vera helps protect against irritation and dry, cracked skin that can lead to transmission of infection.
Unlike other scrubs on the market, the PRO-TEC ChlorSeptic formulation contains no harsh ingredients such as sulfates.
The ChlorSeptic formulation utilises gentle surfactants and lipid layer enhancers which aid in reducing the drying and cracking of skin due to excessive washing.
PRO-TEC ChlorSeptic 2% with Aloe Vera complies with FDA monograph label guidelines. Uses are:
·
Antimicrobial skin cleanser helps reduce bacteria that potentially can cause disease.
·
For Skin wound and general skin cleansing.
·
Preoperative skin preparation.
Aurora Pharmaceutical has supply agreements with all major animal health distributors throughout the United States.