Private storage to help EU pig meat market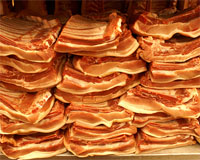 This week EU agricultural ministers were in agreement to use subsidised private storage in order to help support the pig meat market and pig farmers.
Currently, many pig farmers are facing difficulties because of higher feed prices due to a global shortage of cereal.
Not a long-term solution
The Irish Farmer's Association's (IFA) chairman, Tim Cullinan, has stated that he welcomed the announcement from the EU Commission providing market measures to support the price of pig meat. But he added that the action has to result in a price increase and was not a long-term solution for pig producers who are under harsh financial pressure.
The storage will be introduced by the Commission as an urgent measure of subsidised private storage of pig meat to assist aid in the current market problems.
The end of this week could see the first of the measures implemented.
Related website: