Pressure to save British pork meat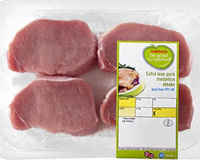 In order to help more British pork show up on supermarket shelves, NFU Scotland, the British Pig Executive and the National Pig Association are putting pressure on consumers to purchase local pork.
These organisations are heading campaigns to ensure that British pork is supported more in supermakets. They are also stating retailers should be charging more for the local pork, in showing support.
"We need retailers to better reflect soaring feed costs in their pricing structures and at the same time to better support home-produced pigs in this difficult period," said Phil Sleigh, NFUS Pigs Committee chairman. "We are calling on the public to help ensure that more of our pork and bacon makes its way onto our supermarket shelves," he added.
"We have written to major retailers regarding the need to support home produce, to address cost issues and to better recognise the higher welfare standards delivered here and we look forward to a prompt response," said Sleigh.
Feed prices have been a huge concern for pig producers, as prices for feed continues to escalate, impacting pig farmers.