Pork seized in China – meat suspected of being injected with water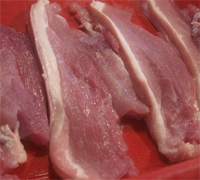 200kg pork meat thought to be injected with water was seized by Songjiang District authorities in China.
The pork meat was suspected of being injected with water, following a report by a consumer who purchased 5kg pork from a wet market and who later found that the meat had leaked a lot of water. The consumer reported the incident to authorities. This prompted authorities to inspect all eight vendors at the market, leading to two vendors being questioned.
Harmful to humans
When water is injected into the animal, usually before slaughter, it slows down the movement of animals' stomachs, and this leads to food residue staying in the stomach and letting out harmful chemicals, such as ammonia and cresol. This means that the meat could contain chemicals which could be harmful to humans. Water injected meat is also carried out to increase the weight of meats like pork and beef. The water used for injection is also questionable, as polluted water is a concern.
According to Shanghai Industrial and Commercial Administrative Bureau's Songjiang branch, the pork meat is currently being analysed, however tests show that there is a possibility that the pork meat had been injected with water.
January, neighboring Jiangsu Province seized more than 300 kilograms of water-injected meat. The current case is still under scrutiny.