Pork reserves to be released by Chinese government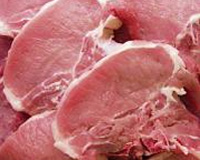 The price of pork in China is currently sky-rocketing, in order to bring down the prices, the Chinese government will release some pork reserves onto the market.
It has been reported that the central pork reserves stands at 200,000 tonnes, and this amount will be gradually boosted, for better impact on future price levels. Yao Jian, Ministry of Commerce spokesman stated that the government will release some stocks held by the central and local governments "in a timely fashion."
The release of pork reserves onto the market, comes at a time when pork prices recently reached record levels last month, increasing 57% from a year earlier.
According to analysts the pork price hike is a result of a falling hog population due to factors such as swine flu culling in 2009 and Foot and Mouth disease last year.
Curb inflation
On Wednesday, the Chinese government also said that there is a new fiscal support policy to boost the country's supply of live pigs. The announcement by the Chinese government of the new fiscal support policy is expected to bring down pork prices and curb soaring inflation. Also, there will be an investment of 2.5 billion yuan ($390 million) in large pig farms.