Pork CRC – Bioenergy Support Program launched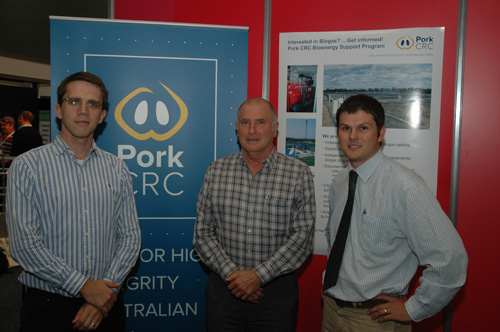 Launching its Bioenergy Support Program at the Pan Pacific Pork Expo 2012 marks the first step of an internationally acclaimed commitment by the CRC for High Integrity Australian Pork to reduce the carbon footprint of Australia's pork producers to one kilogram of carbon dioxide per one kilogram of meat.
With an Australian Pork Limited life cycle assessment having indicated more than two thirds of greenhouse gas emissions were generated from piggery effluent ponds and with more than 90 per cent of Australia's pork production utilising ponds to manage effluent, a significant opportunity existed for industry to capture emissions for mitigation or utilisation.
According to Pork CRC CEO, Dr Roger Campbell, methane capture, utilisation and flaring, would be some of the most effective steps in realising the CRC's carbon target.
"As part of Pork CRC Subprogram 4C, Carbon Neutral Pork Production, this project prioritises production, capture and use of methane from piggery effluent treated in covered anaerobic lagoons," he said.
Dr Campbell said that specific efforts towards carbon neutral pork production would involve novel research to maximise methane production from effluent ponds so that gas collection and use can be made more economically viable.
"Alternative approaches to waste management will also be assessed to develop solid waste pork production systems that mitigate carbon outputs," he said.