Pork Checkoff/ PIC: Recipients of 2012 pork industry scholarships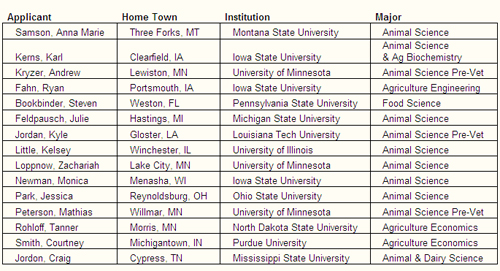 The Pork Checkoff and PIC have awarded 15 scholarships to college students around the United States as part of their strategy to develop the pork industry's human capital for the future.
"Helping to develop the next generation of pork professionals is one of the top issues the Pork Checkoff has identified as critical for the industry's future," said Everett Forkner, president of the National Pork Board and a pork producer from Richards, Mo. "Our ongoing service and obligation to producers includes ensuring that there is a sustainable source of young people ready to take on the industry's charge of producing a safe, wholesome food product in a socially responsible way."
The 15 student recipients hail from 11 universities and seven swine-related fields of study. The 2012 Pork Industry Scholarship recipients are:
The top candidate, Anna Samson, will receive a $5,000 scholarship, and the runners-up, Karl Kerns and Andrew Kryzer, will receive $3,500 scholarships. The other 12 students selected will receive $2,000 each.
"A skilled workforce is essential for the competitiveness of this industry," Forkner said. "We need young leaders to look at pork not just as a food choice, but as a career. This is a chance for the industry to encourage these young people to join a workforce that offers many diverse opportunities.
"On behalf of the Pork Checkoff and its partners, the National Pork Board and the pork industry, we congratulate this year's Pork Industry Scholarship recipients," Forkner said. "We look forward to welcoming them into our industry in the future."