Poland: Growth of hog inventory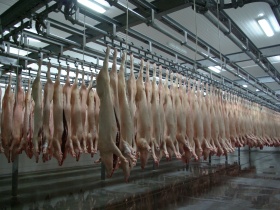 Total numbers of pigs in Poland have grown in 2009 again, the website of the German organisation for swine producers (ISN) reports.
On the basis of the Warsaw Head Office for Statistics, over 14.2 million pigs were counted by the end of November 2009 – a 0.1% year-on-year rise.
In March 2009, the low-point was registered with only 13.3 million pigs. The total November growth still was very modest, despite the fact that numbers of sows and gestating animals went up 6.4%. The statistics office attributed this positive development to a growth in profitability in pig production, as prices for pigs are relatively high and feed prices are relatively low.
Beef and sheep
In beef production, the statistics office noted a total number of cattle of approximately 5.6 million animals in December 2009, a year-on-year growth of 0.5%. Numbers of sheep dropped by 17.2% to 223,200 in the same period.
Related website:
• German organisation for swine producers (ISN)