Piglet nutrition company Hamlet Protein opens plant in the US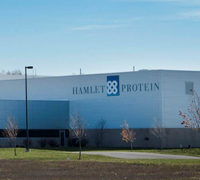 Animal nutrition company Hamlet Protein opened its second production plant last week, located in Findlay, Ohio, USA.
The 8,200 m2 (88,000 ft2) facility employs 20 people and was purchased from a different business that had built the complex some three years ago but could never take it into use due to the financial crisis. "We are very proud that we could buy and take it into use within a year," said Søren Munch, CEO, Hamlet Protein.
Sources
The Danish company, headquartered in Horsens and producing highly digestible vegetable proteins to serve the needs of young animals, had been looking for a way to be closer to its sources. Munch said, "Now we are located in the United States, we have our raw materials around us within one hour's drive. In addition, our customers will be all over the place around the factory. This will be more cost-efficient and we shall be able to serve these markets on a shorter notice."
The novel plant, which cost about US$20-25 million is the company's first outside Denmark and it will greatly step up the company's total production capacity
.
Munch said, "As we see it, the United States is a very mature pig market. In the piglet feed business, however, the market for specially produced soy feeds is a fast-growing niche. It seems like the American market likes our value proposition: a better feed conversion ratio, a better feed efficiency and a better animal health."
The plant's official opening was carried out by the Danish ambassador to the United States, Peter Taksøe-Jensen, together with John R. Kasich, governor of Ohio (see photo below). All in all, 150 international visitors attended the festive event on Friday, January 24. In total, eight speakers addressed the audience.
Markets
Not only the American, Canadian and Mexican markets will be served from Ohio, as the plant will also play an active role in serving the growing markets in Asia. These markets will be served both from Denmark and from Ohio. Munch said, "We experience high growth in Asia and will eventually be looking for an expansion in this geographical area as well. Our current first priority is an expansion of our new plant in Ohio in order to utilise the economies of scale in our facility and process."
The Danish company does not contract external facilities and plants to produce their products. Munch: "We like to keep production in our own hands in order to protect our intellectual property. In addition, it is impossible to do it for other parties as the production process is very specific."
Hamlet Protein, founded in 1992 and now employing 80 staff worldwide, does not only produce for the pig industry – the company also sells products for use in calve milk replacers. In addition, the broiler business, the pet food industry and aquaculture industry are served.