Piglet fed by female dog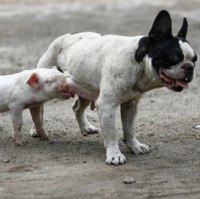 A dog feeds a piglet in Shenyang, northeast China's Liaoning province June 29, 2007.
The piglet has been fed by the dog for some 40 days since its mother died soon after giving birth. The dog started feeding the piglet after encouragement by the farmer who placed the piglet with the dog in the doghouse, local media reported.