Pig Progress, Vetsweb and Janssen AH team up at IPVS Congress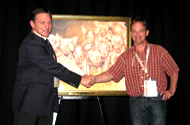 For the fourth time, the Pig Management Award will be handed out during the International Pig Veterinary Society Congress in July, in Vancouver, BC, Canada.
The Pig Management Award, traditionally awarded by Janssen Animal Health at the biannual congress, will for the first time be co-sponsored: Pig Progress and Vetsweb.com, two leading global platforms for pig-related and veterinary information, will also team up in this award ceremony.
©
The award is presented to that Congress' best paper in the field of pig management. A balanced group of scientists will make a careful choice from the submitted papers during a special session prior to the Congress.
©
Over the last decade, the concept of pig management has become increasingly important for both pig producers and veterinarians.
©
Questions related to e.g. food quality and animal welfare, both in the European Union, the United States and Canada, have led to a re-think of animal production. New sanitary challenges and the discussion on antibiotic use have intensified this process and has put the veterinarian in a crucial role.
©
Welfare, nutrition, food quality, public health, animal health and traceability issues can be solved by making strategic planning decisions – and this is exactly where pig production, management and veterinary science touch.
©
Award
This year's Pig Management Award will be presented on Monday, 19 July 2010, at the Fairmont Waterfront Hotel, from 6.15 until 7.15 in the evening. Attending the award presentation is simple -©please click on the banner or go directly to the site
www.janssenanimalhealth.com

©
©
Previous Award winners were Prof Stefan Hoy (2004), Dr Elisabeth Nielson (2006) and Dr Theo Geudeke (2008).
©
Related websites:
**PHOTO:©The award moment in 2008
©
©