PIG PROGRESS MAGAZINE: Focus on Romania and China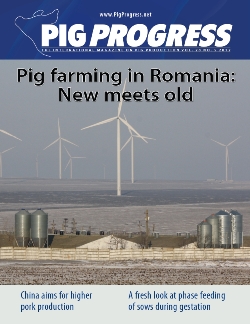 Pig Progress 28.05 has appearead. Apart from a strong focus on China, we took a close look on a farm in Romania.
The farm visit takes readers to the shores of the Black Sea, with some beautiful scenic shots. Degaro Farm was founded decades ago, but acquired by Danish DCH International, after which breeding figures have improved.
The article 'China aims for higher production' analyses the current Chinese market and industry situation with some very recent and updated figures.
In China, there is a strong belief that the country can become self-sufficient when it comes down to food production. Jikun Huang, from the Chinese Academy of Sciences tells about it.
The Expert talk section is also dedicated to China as Somyong Chokvareeporn, Charoen Pokphand discusses challenges and opportunities for this market.
With ever-increasing knowledge about sows and their changing feeding needs during gestation, it becomes clearer that phase feeding could pay off. What do they need? Bill Close and Jules Taylor-Pickard give the answer.
Biomin's Karin Naehrer takes readers to the world of fumonisins – and how they impact swine production.
Reviews look back to the European Symposium on Swine Research Days (Paris, France, February), Porcine Health Management (Bruges, Belgium, April) and the British Pig & Poultry Fair, Stoneleigh, UK (May).
This edition of Pig Progress also looks ahead to the SPACE show, in Rennes, France in September.
Columnist John Gadd zooms into the topic of lenders – how to deal with them and how to be prepared?
Last but not least, what exactly is animal nutrition company Kemin doing, expanding its headquarters and research facility in Des Moines, Iowa? The company focus section gives the answer.