Pig Progress 8: Let's go Asia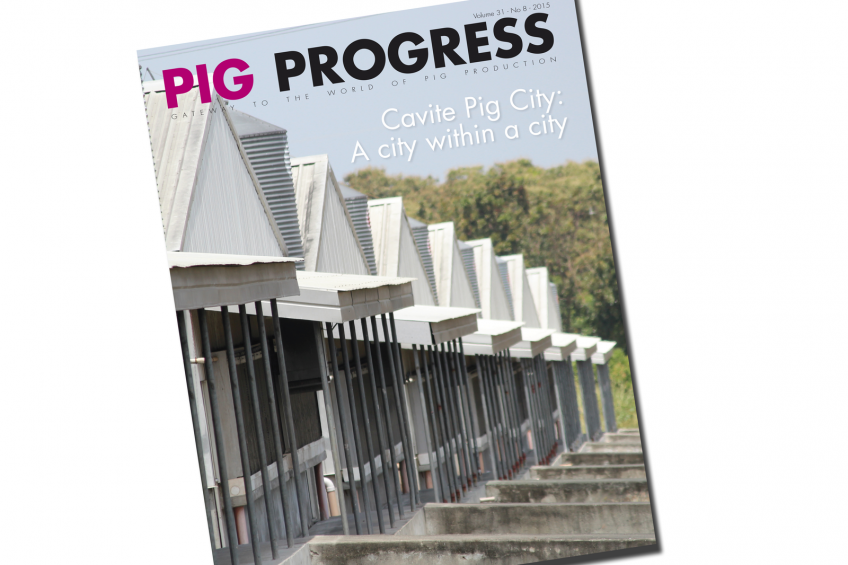 The 8th edition of Pig Progress in 2015 has a strong focus on Asia, with features from Taiwan and the Philippines. In addition, the theme of 'sow management is addressed'.
Pig Progress visited Cavite Pig City, near Manila in the Philippines and came back with a great feature, explaining all about the farm's recent expansion. You will read that the facility upgraded to 121 buildings, adding modern stables applying new techniques like tunnel ventilation (Betco) and automated feeding systems (AP Systems). Read all about it on pages 20-23.
The issue also contains an analysis from the pig market in present-day Taiwan. Which opportunities are there, and more importantly, which have disappeared? After all, the country used to be one of the top producers, but seems to have fallen away from the leading countries. Discover more on pages 12-13.
[([002_236_rb-image-2707908.jpeg]:inzetgroot)]
Taiwan's challenging future in pig farming
Also, stand-in columnist Dr Gustavo Cordero, wonders where the drive for progress comes from, in Vietnam.
Another focus: sow management
The theme 'Sow Management' receives ample attention from North America. The article 'A three-step approach to lift sow parity numbers' is a guide to help producers lift the culling age for production sows, with input from the US 'Feeding for 30' programme, supported by Zinpro, DSM and Purina Animal Nutrition. Read more on pages 28-30.
In addition, another article devoted to sow management on page 26 zooms in onto several ways of providing feed to sows.
[([003_682_rb-image-2707909.jpeg]:inzetgroot)]
Closing the gap between potential and performance
Pig health: antibiotics, trace minerals and PEDv
Pig Progress also interviewed for this edition Dr Johanna Fink-Gremmels, Utrecht University, and she is explaining why relying on antibiotics alone is not a good solution when aiming for a better health situation in the pig herd (pages 14-16).
[([004_487_rb-image-2707916.jpeg]:inzetmiddel)]
German by birth, Prof Johanna Fink-Gremmels (66) qualified as DVM, attending the University of Veterinary Medicine (TiHo) in Hanover, Germany. She was professor of veterinary pharmacology, pharmacotherapy and clinical toxicology at Utrecht University. Prior to this, she was senior scientist and research director at the federal institue for Meat Research in Kulmbach, Germany. She is also president of the European Association for Veterinary Pharmacology and Toxicology.
The role of trace minerals, for instance, might be further reaching than has hitherto been thought, and even for veterinary purposes, trace minerals are important, as Prof Dr Joseph Kamphues tells in the article on pages 8-10.
John Gadd, in his monthly column on page 11, follows up on tells more about how to deal with PED virus – and touches on Standard Operating Procedures.
Nutrition: feed the youngest
Last but not least, the importance of feeding young animals has been amply illustrated in RBI Agri's recent Feeding Young Animals Special Edition. The article on pages 24-25 follows up on this series with more information on how exactly to feed young pigs.
For these articles and more check out Pig Progress digital magazine