Pig producer Smithfield reports loss in 2010 fiscal year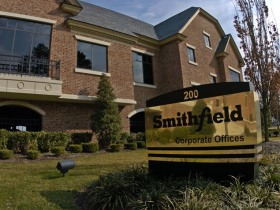 Smithfield Foods, the United States' largest pig and pork producer suffered a loss of US$101.4 million for its 2010 fiscal year, ending on the 2nd of May.
The company noted, however, that this result was an important improvement over the results of 2009, when there was a loss of $198.4 million. In addition, the company said that that operating results 'improved significantly' in all business segments.©
Virtually all of the loss was attributed to the company's pig production division, which had an operating loss of $460.8 million 2010, compared with an operating loss of $521.2 one year earlier.
Most challenging
C. Larry Pope, the company's CEO and president, said: "The last two years were by far the most challenging in over 30 years. The contributing factors – global recessionary conditions, unfounded fears about A(H1N1) and the resultant closures of some key export markets, spiking grain prices and extended low hog prices tied to a significant oversupply of live hogs – are all well documented.
"These factors, combined with the extremely slow pace of herd liquidation in spite of mounting industry losses, all conspired to make for one of the longest and deepest downturns ever in live hog production."
Swine production finally has made the cyclical turn, Pope said, and hog production has returned to profitability, with 'significant year-over-year improvements', although not in time for Smithfield's fourth quarter (February-April). In this quarter, Smithfield had a loss of $4.6 million, which is an improvement in comparison to the $81.2 million loss in the fourth quarter a year ago.
Good news
"While this is good news, we are not satisfied with our hog production segment cost structure and we are initiating a new hog production cost savings initiative aimed at significantly improving our competitive position. Although the benefits will not be immediate, the long term impact should be very beneficial," Pope commented.
Pope added that there were a number of bright spots in the year, including completion of the pork group's restructuring, which achieved its targeted $55 million of profit improvement in the year, and record results for its packaged meats segment.
Feed prices have come down again, a 13% reduction of the company's sow herd has been achieved creating higher pig prices and demand to pork has risen. Pope also said fiscal 2010 was the company's second-best ever export year despite the closure of the Chinese and Russian markets.
Analysts
Smithfield's expectations for the year to come were not cheered at everywhere. Wall Street analysts have tempered their expectations for Smithfield Foods' 2011 earnings performance a day after the pork producer posted a fourth-quarter loss due to ill-timed hog futures hedges.
Butterball acquisition
At presenting its annual figures, Smithfield also disclosed that it has offered to acquire its joint venture partner's 51% majority ownership in Butterball for $200 million, a maneuver that, according to the ownership agreement, requires its partner, Maxwell Farms, to either sell that interest or buy Smithfield's 49% minority share.
Butterball is the largest turkey integrator in the USA and was included in Smithfield's acquisition of the branded meats business of ConAgra Foods four years ago.
Related website:
• Smithfield Foods