Pig industry responds to swine flu outbreak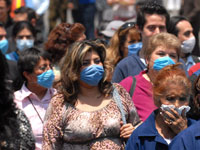 As the human toll rises, the pig industry is being quick to respond to the global impact of the swine flu originating in Mexico, in order to deter any lasting impact on the industry.
The National Pork Board is assuring consumers pork is, and will remain, safe to eat. "Swine influenza viruses are not spread by food. You cannot get swine influenza from eating pork or pork products. Eating properly-handled and cooked-pork products is safe," the Centers for Disease Control & Prevention states on its web site.
No contact with pigs
Although the virus is contagious, it spreads from humans to humans. CDC has found no evidence indicating any of the US illnesses resulted from contact with pigs — and no pigs have been found to be infected or sick with this particular virus in the US Meanwhile the World Animal Health body stated on Monday that the flu virus spreading around the world should not be called "swine flu" as it also contains avian and human components and no pig was found ill with the disease so far.
As a precaution the NPB is urging producers to enhance biosecurity plans on their farms. Swine influenza, or "swine flu", is a highly contagious acute respiratory disease of pigs, caused by one of several swine influenza A viruses, according to the World Health Organization.
Swine influenza subtypes
Swine influenza viruses are most commonly of the H1N1 subtype, but other subtypes are also circulating in pigs (e.g., H1N2, H3N1, H3N2). Although swine influenza viruses are normally species specific and only infect pigs, they do sometimes cross the species barrier to cause disease in humans, WHO relays. At present, it is unknown if this new strain causes any type of illness in swine.
Since it is unique, NPB said following good biosecurity practices would help producers to prevent introducing the new strain of swine influenza virus type H1N1 into US operations.©
Report pig illness
Anyone witnessing or hearing employees report respiratory illness in pigs should immediately contact a swine veterinarian. If deemed necessary, a veterinarian may require samples be taken from animals to send to veterinary diagnostic laboratories. If animals present fever or go off feed, the veterinarian may take lung tissue samples and nasal swabs to send to a veterinary diagnostic laboratory.
Smithfield Foods has stated that it has found no clinical signs or symptoms of the presence of swine influenza in the company's swine herd or its employees at its joint ventures in Mexico. The company also noted that its joint ventures in Mexico routinely administer influenza virus vaccination to their swine herds and conduct monthly tests for the presence of swine influenza.
China bans pig imports
Outbreaks of the H1N1 virus which has killed 149 people in Mexico and spread to the United States, Canada and Spain, have prompted several countries to impose bans on pig meat imports.
China said on Monday it had banned imports of live pigs and pork products from Mexico and three U.S. states, following Russia's move on Sunday to place curbs on meat imports from North and Latin America.
"It is important to reaffirm that pork consumption is not blamed at all in the transmission of this disease," the head of the Paris-based OIE Bernard Vallat told Reuters in an interview.
Click here for Swine Flu Q&A's
Related websites
• National Pork Board
• World animal health©
•©Centres for disease and control©
•©World Health organisation
• Smithfield Foods
• BBC
Related new items
• Death toll keeps rising in Mexican swine flu outbreak
• Swine flu: WHO raises pandemic alert to phase 4
• WHO: Swine flu is 'public health emergency'©