Pig health in the spotlight in new Pig Progress magazine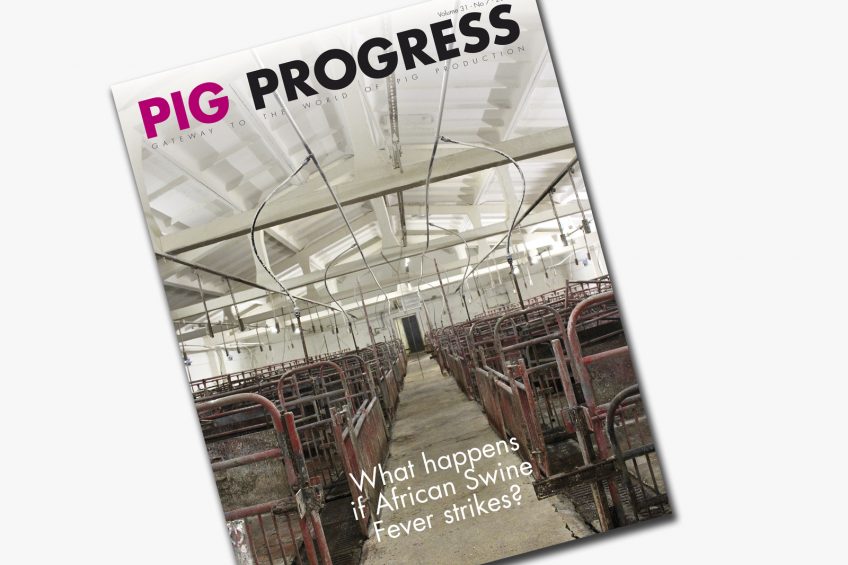 The latest edition of Pig Progress is available to read online. The issue focuses on welfare issues – but even more on pig health, with attention for ASF, PED and PRRS.
Health wise, this issue carries the extensive and interesting story of Rupinskai Farm in eastern Lithuania (pages 20-23), which was the first commercial facility in the European Union to be hit by African Swine Fever (ASF). The article has been available online for some while and was read very well. Pig Progress also made a video update to inform about the farm's recovery after the outbreak.
PEDv and PRRS
Porcine Epidemic Diarrhoea virus (PEDv) is being touched on in the second episode of John Gadd's column on page 11. In order to get the full picture, the first episode on PEDv can be accessed online.
[([002_rb-image-2685676.jpeg]:inzetgroot)]
When two of the major health issues of the time are being touched on, a third cannot be left out. Boehringer Ingelheim created a comprehensive overview of methods how to diagnose Porcine Reproductive and Respiratory Syndrome virus (PRRSv); you can read all about it on pages 28 and further.
Does sugar alleviate piglet pain problems?
As said, welfare issues also receive a great deal of attention. At the Prairie Swine Centre in Canada, research has been carried out whether providing sugar to piglets helps the animals cope with e.g. castration better. Results can be read on pages 8-10.
Columnist Dr Monique Pairis-Garcia travelled to Denmark to attend a conference on pig welfare, and reports about it on page 34.
This is not all, we've also interviewed Meryl Ward, the new chairperson of the pork division at the UK's Agriculture and Horticulture Development Board (AHDB Pork), formerly known as the British Pig Executive (BPEX). This can be found on pages 14-16.
[([003_rb-image-2685678.jpeg]:inzetgroot)]
Geopolitical tensions and Ukraine's pig industry
A country analysis takes us to Ukraine this time, to see what the long-term effects the current geopolitical problems as well as African Swine Fever have on the country's pig production – read more on pages 12-13.
Last but not least – helping sows a little bit during lactation has been an issue for which there is a growing interest. Helping the sows achieve a better feed intake is one way to assist. The article on pages 24-26 explains all about the how and why.
Get access to the digital issue of Pig Progress here.