Pig feed dominates German feed market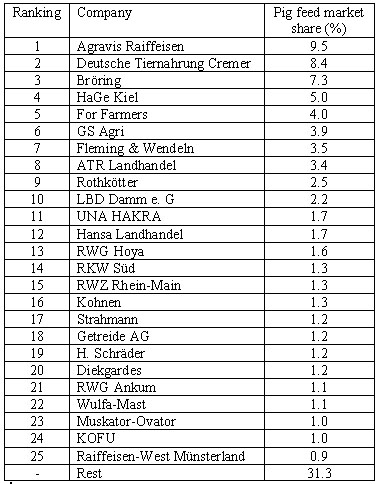 Pig feed is the most important market for German feed compounders according to a feed market evaluation of the German interest group of pig farmers (ISN) in Damme.
Pig feed market
The production of pig feed has risen since 2006 in Germany with 784,000 tonnes to 8.9 million tonnes. The ten largest pig feed producers could expand production by 440,000 tonnes.
©
With moderate growth in pig feed Agravis and Deutsche Tirenahrung Cremer were able to keep their front positions from the year 2006, with the Bröring following closely. The company from Dinklage was able to increase its volume of pig feed in the last three years by 25% to 650,000 tonnes. The main cooperative is attracting attention by its expansion drive (Roth Landhandel).
Bela Mühle, part of the Dutch For Farmers Group ranks number five and was able to increase its pig feed production by 4%. Bela produces at three locations: in Langförden at Vechta, in Hamburg and in Rees – Lower Rhine. The Dutch parent company is active on the Dutch and German feed market.
Above average growth was recorded at GS Agri in Schneiderkrug and the Fleming & Wendeln group in Garrel on places 6 and 7 respectively.
ISN examined the structure of German pig feed production in 2006. Since then production of compound feed for pigs in Germany has increased by 9.6% to 8.92 million tonnes. The number of manufacturers fell, according to the Ministry of Agriculture (BMELV) simultaneously by 8.6% to 330 companies.
©
Behind us are two years with high raw material prices. Many farmers took advantage of the high price period, and sold their grain rather than to mix it themselves.
©
Also northwest Germany, the fattening capacities were expanded vigorously. The structural changes in the pig farms also had its effects in compound feed use. In larger companies home mixing often binds too much capital and labour and compound feed better fits in the operation.©
©
How did feed makers anticipate?
The Top Ten feed companies anticipated on the market change by increasing their total tonnage by 12.5% to 11.5 million tonnes of compound feed.
©
This way the ten largest feed makers increased their total market share to 55%. The market share of the top 25 companies is now around 70%.
©
Compared with other sectors of the agribusiness (agricultural chemicals, meat industry), the concentration ratio is relatively low. This still ensures intense competition in the animal feed sector. This competition is mainly dependent on location of the feed plants, which is in favour of the pig industry in northwest Germany.
©
German compound feed industry
The analysis of the feed industry, which is based on company data shows that the Top Five in 2009 produced more than one million tonnes of compound feed (for all species).
©
These include the Deutsche Tiernahrung Cremer in Düsseldorf (2.3 million tonnes), Agravis Raiffeisen AG in Münster (2.17 million tonnes), the Bröring group in Dinklage (1.3 million tonnes), Mega Rechterfeld ( 1.1 million tons) and the For Farmers Group from Lochem, the Netherlands (1.04 million tonnes).
©
GS Agri was able to increase its pig feed sales volume by almost 46% to 350,000 tonnes. Similarly, the Fleming & Wendeln group increased its pig feed volume by 42% to 315,000 tonnes.
©
Pig focused companies
On places 11-21 many several firms can be recognised as pig feed specialists; RWG Hoya (68% pig feed), Strahmann (82% pig feed), RWG Ankum (83%), Kohnen in Sögel (85%) and Diekgerdes Landhandel (90%). These five companies were able to increase their pig feed output by 152,000 tonnes since 2006.
It is noteworthy that every feed maker situated in the northwest of Germany could increase its feed sales volume.
©
Pig farmers in that part of the country were in expansion mode and built several new pig houses and thus required more feed for their pigs.
©
When comparing feed manufacturing data with companies in the north and east of Germany, it can be concluded that these only showed moderate growth or even stagnated in growth. In southern Germany feed production declined. RKW Süd was always a top ten producing company but has now fallen behind.
The German Feed Federation (DVT) expects for 2010 consolidation at a high level for pig feeds. Further expansion of pig farms and focus on export should support this development.
©