Pig farm video rouses housing discussion in USA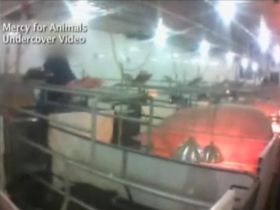 An undercover video, shot at a pig farm in Pennsylvania, and shown on Fox News, has sparked a discussion on pig welfare and housing in the United States.
The 12-minute film, made by an employee of the animal welfare organisation Mercy For Animals (MFA) at Country View Family Farms, in Fannettsburg, PA, shows employees throwing piglets at each other and picking up piglets by their ears. It also includes footage of sows in crates and the piglet euthanasia process.
Mercy For Animals used the footage to seek media attention for their goal of new federal and state laws related to the treatment and housing of farm animals, as told to Fox News by Daniel Hauff, MFA director of investigations: "There are no federal laws that protect animals while they are on the farm, and most state anti-cruelty statutes exempt farm animals."
AASV
The president of the American Association of Swine Veterinarians (AASV), Dr Butch Baker, however, told the news channel it is upsetting to see animal rights organisations try to destroy America's farmers.
"They (MFA) would like to put all those people (farmers) out of business and out of work. I have no patience for anyone who abuses animals or no tolerance and I don't think anyone should, but these films… really are an attack on the rural lifestyle of America.
"People in rural communities depend on farms and farming for their livelihood. If you let an extremist group run the industry that's just as bad as letting the people who didn't care about the animals at all run the industry," he said.
AVMA
Upon viewing recently released video footage showing swine abused at a Pennsylvania pig-breeding facility, the American Veterinary Medical Association (AVMA) strongly condemned the cruelty depicted and repeated its call for stricter adherence to established humane handling guidelines for food production animals.
"The tossing of these animals and the grabbing of the animals by their ears, along with other egregious practices depicted in the video, are unacceptable," said Dr W. Ron DeHaven, chief executive officer of the AVMA. "Those charged with the responsibility of handling animals have a duty to do so with respect for the animal's health, welfare and safety."
MFA
The MFA, draws its own conclusions from the footage. The organisation says the euthanasia process by using carbon dioxide 'did not work properly', 'sick pigs were left untreated for weeks', 'adult female pigs were kept in gestation crates that are too small'.
Hauff was quoted to say, "What we documented is standard and largely accepted by the pork industry and as a civilised society it's our moral obligation to make sure animals don't suffer needless cruelty."
Country View Family Farms
A CVFF representative told Fox News that "there are some things in this video I can't and won't defend. But there are others that could be seen out of context and I can't really understand what's going on."
After a rapid internal investigation, the farm manager was relieved from her duties. A special statement on the website speaks about 'an isolated incident'. "The mishandling of pigs shown on the video is actually an issue that was corrected several months ago, prior to the farm knowing of the video's existence, through an internal self-audit."
Country View Family Farms, a division of Hatfield Quality Meats, is one of the largest pork producers in Pennsylvania and operates more than 100 pig farms across Pennsylvania, Ohio and Indiana.
PQA Plus programme
The US has put great effort in enhancing animal welfare over the last decade. In 2007, the National Pork Board, which monitors the pork industry, launched its Pork Quality Assurance Plus programme, focusing on animal welfare training and encouraging pork producers to hire third-party auditors to inspect their farms.
To watch the film, click here.
Related websites:
• Fox News
• Country View Family Farms
• National Pork Board (NPB)
• Hatfield Quality Meats
• American Association of Swine Veterinarians (AASV)
• Mercy For Animals (MFA)
• American Veterinary Medical Association (AVMA)