Philippines: Pig disease spread – kills hundreds of pigs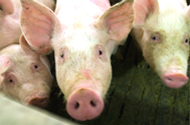 In Tabuk, pig diseases have been detected which have killed around 300 pigs to date.
Authorities confirmed this week that cholera and Reproductive and Respiratory Syndrome (PRRS) caused infection among the pigs.
Lab tests carried out at the Philippine Animal Health Centre in Manila, revealed that cholera and PRRS was indeed present among the hogs.
Godofredo Laed from the Provincial Veterinary Office (PVO) has said that there were reports from hog raisers of widespread cases of severe diarrhoea and still births among hogs since July this year.
To prevent an even further spread of viruses, the PVO sprayed disinfectants among infected pig pens and asked swine owners to increase body resistance of their pigs through vitamins and proper feedings.
No outbreak
Laed further added that the PVO cannot yet declare the situation an outbreak, "since we lack further qualifying requirements for such a declaration," despite the pig deaths considered to be a high number, said a report by Manila Bulletin.
It is possible that the virus could have come from infected pig meats and live hogs brought into the town, Laed said.
Hog cholera causes excessive diarrhea, while PRRS leads to abortion, still births, mummified fetus and very weak piglets.