Pfizer AH: A single-dose vaccine to prevent PCV2 viraemia in pigs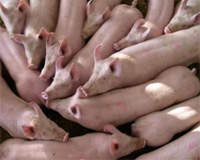 Veterinarians and pork producers in the United States can now help prevent Porcine Circovirus type 2 (PCV2) viraemia with the convenience of a single dose using new Fostera PCV from Pfizer Animal Health.
"Nearly all pigs are exposed to PCV2 during their lifetime, so the goal is to create an environment with the least amount of virus present," says Darrell Neuberger, DVM, pork technical services veterinarian at Pfizer Animal Health. "A challenge study demonstrated a single dose of Fostera PCV vaccine reduced the amount of PCV2 in the blood up to 10,000 times compared to non-vaccinated pigs."
PCV2 viraemia can compromise herd health, performance and kg per pig at market.
"Maintaining a low to non-existent PCV2 viremia level can enable the immune system to help fight other diseases more effectively and allow animals to grow more successfully," explains Neuberger.
Fostera PCV also helped provide protection against PCV2 infection in lymphoid tissues, while helping reduce lymphoid depletion in pigs challenged with virulent PCV2.
Costly disease
Porcine circovirus and mycoplasmal pneumonia are two of the costliest diseases affecting pork producers. Helping provide protection before disease exposure is critical to the success of any vaccination programme, explains Neuberger.
Studies show that pigs are typically infected with Mycoplasma hyopneumoniae within the first three weeks of their life – through exposure from the dam during lactation or through exposure to older pigs. Vaccinating after this point can leave a gap in protection.
"RespiSure-ONE at processing and Fostera PCV at weaning help fill a gap in protection without compromising convenience," says Neuberger.
Both products are available on the US market only.