Peta accuses German pig farm of animal cruelty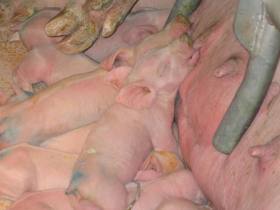 Animal rights group Peta in Germany has sued pig farm Prignitzer Landschwein GmbH in Neudorf for not using pain killers when castrating young boars.
The animal rights group accuses the pig farm for not complying with the QS-quality label in which animal welfare and animal health rules are laid down.
With videos taken in two turkey farms in Cloppenburg and two pig farms in Görlitz and Neudorf Peta intends to prove that animal cruelty takes place in QS-certificated farms.
The group has placed the videos on their website. Apart from the pig farm in Neudorf Peta also filed complaints against two other farms.
Castration without painkillers
The German animal welfare law allows castration without pain killers in the first days of the piglets. But what under currents laws still is admissible should not be legitimate or fair, Peta states in a press release.
Ralf Remmert, manager at Prignitzer Landschwein rejects the criticism of the action group. "I don't feel guilty at all" he says "and I have always kept to the rules stated in the law."
"I am someone who continuously tries to improve the production conditions of the animals. The better the animals are treated, the better they perform."
Remmert notes that he had approved the videos taken at the farm in 2008 – at least for Animal TV. In front of the camera he had taken up a position on the subject, but now everything has changed.
Castration alternatives
He said that in 2008 there were no real alternatives to castration without anaesthetics. There were no admissible pain killers at that moment and anaesthetising of the piglets by a veterinarian was not practical due to the large numbers. Gas-stunning was at that time not ready for practice.
In the mean time products have become available and have been used at the farm since 1 April 2009 when the use of these pain killers have become compulsory in Germany.
Quality and Security GmbH, the owner of the QS-label had the accused farms checked by an independent certification organisation. It concluded: "The farms do not operate in conflict with animal welfare law or against the regulations of the QS-label. The allegations of Peta are not tenable."