Pet food toxin also found in pig feed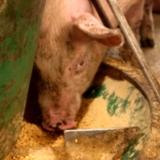 Melamine, the cause of the pet food contamination has been found in pig feed at American Hog Farm in Ceres, Calofornia. Officials believe the melamine came from rice protein concentrate imported from China by Diamond Pet Food, which sold salvage pet food to the farm for pig feed.
Tests of seven urine samples and two feed samples at American Hog Farm in Ceres all came back positive for the chemical, melamine, which has tainted more than 100 brands of dog and cat food, said state Veterinarian Dr. Richard Breitmeyer. The state agriculture officials placed the pig farm under quarantine. Three live pigs were taken for testing, and inspectors are rounding up an undetermined number of live pigs sold from the 1,500-animal farm since April 3.


Custom slaughterhouse
The 1,500-animal farm operates as a "custom slaughterhouse," which means it generally does not supply meat to commercial outlets. Mostly it is not so-called mainstream pork. This is an operation that sells to folks who come in and want a whole pig. However, officials urged those who purchased pigs from American Hog Farm since April 3 to not consume the product until further notice. Dr. Mark Horton, state public health officer, said so far "evidence suggests a minimal health risk to persons who may have consumed pork" from the farm.


Related websites:
FDA
Diamond Pet Food


To receive the free PigProgress newsletter click here.