Parasite research: pork infected at a low level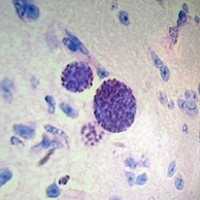 A recent survey into retail meats revealed that the common microscopic Toxoplasma gondii parasite can be found at only a very low level in pork.
The study to this bacteria, infecting animals and humans globally, was conducted by scientists with the US Department of Agriculture (USDA) and the Centers for Disease Control and Prevention (CDC).

The study was led by scientists Dolores E. Hill and Jitender P. Dubey of USDA's Agricultural Research Service (ARS) and was published in The Journal of Parasitology.

Analysing samples
The scientists analysed samples of retail meat obtained from nearly 700 stores in the USA. nationwide. About 2,000 samples of pork were purchased from stores in 28 major geographic areas throughout the country.

Apart from pork also 2,000 samples of poultry and 2,000 samples of beef were researched.

None of the raw beef and chicken meat samples contained live T. gondii parasites, based on a controlled analysis. In raw pork from retail meat cases nationwide, the prevalence of live T. gondii parasites was estimated at a low 0.4%, or about four per 1,000 samples.

This percentage can effectively eliminated by proper cooking.

Damage
The parasite can damage developing fetuses and persons with weakened immune systems, such as people infected with HIV, experts say.
Infants born to mothers who become infected for the first time just before or during pregnancy are at risk of developing severe
toxoplasmosis
due to
T. gondii
exposure.