Pan-Pacific Pork Expo 2010: focus on health and nutrition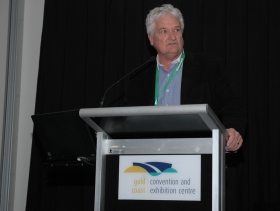 Dr Roger Campbell, CEO of Australia's Pork Cooperative Research Centre (CRC), is increasingly convinced that fresh Australian pork has a range of largely untapped health and nutrition attributes.
"There's just something about pork," he said, after welcoming almost 500 people to the 2010 Pan Pacific Pork Expo (PPPE) on Queensland's Gold Coast. The expo was held on 16-17 June.
The Pork CRC supports research into such pork qualities as its role in improving thiamine status and reducing heart disease and type two diabetes, plus the possible benefits of its selenium content and its effect on satiety.
"These are just some of the things we're studying, researching and reviewing, particularly as part of Pork CRC Program Three, which is managed by Heather Channon of APL," Campbell said.
Health
"Everything we do is really about health, as we need a healthy animal to feed nutritious pork to enhance human health, while maintaining a healthy environment and a healthy economic platform to support investment and capture value for stakeholders up and down the chain, from producers to consumers."
A central theme of the Pork CRC's bid for a second term is a commitment to refine and focus its attention on motivating and up-skilling Australia's pork industry to produce pork more efficiently, more ethically, more sustainably and more economically.
"We would do this while keeping the health of our pigs, our people and the environment top of mind," Campbell said.
Next Generation Pork
In keeping with the 2010 PPPE theme, 'Next Generation Pork – Finding the Balance', the Pork CRC sponsored 'Pork Power' a day two concurrent session which analysed the importance of maintaining healthy pork for a healthy market.
Associate Professor Karen Charlton, School of Health Sciences, Wollongong University, NSW, revealed that pork had a more positive effect on PYY, one of the human hormones controlling appetite, than chicken and a similar effect on satiety, or feeling of fullness, as lean beef and chicken.
With two thirds of adult Australians obese and childhood obesity increasing, this represented a new marketing opportunity for the pork industry in the context of consumer demand for foods to improve health and wellbeing.©
Cardiometabolic health benefits
Professor Peter Howe and Dr Karen Murphy, both of the University of South Australia, presented on the possible cardiometabolic health benefits of eating fresh pork during the Pork CRC supported 'Pork Power' concurrent sessions.
With high protein, meat-based diets commonly promoted for weight loss and pork being the world's most eaten meat, their early stage research studied the health impact on overweight/obese individuals of increased pork consumption.
Initial results showed subjects on pork-based diets actually lost weight, in the form of body fat, during the study, but subjects on control diets gained weight.©
According to Campbell, this was put into perspective by Murphy, who concluded that the outcome meant those including pork in their diet could 'pull their belts in one or two notches' at the end of the study.©
"There's something about pork and the University of South Australia, with Pork CRC support, will now compare the effect on body composition of regular consumption of lean pork versus chicken and beef," Campbell said.
Intake
CSIRO nutritional and exercise scientist Thomas Wycherley revealed that a higher intake of lean pork as part of a high protein, lower carbohydrate diet plan, combined with resistance exercise training,©provided advantages for optimising weight and fat loss in overweight and obese patients with type 2 diabetes.©
His research confirmed that pork contained up to 10 times the thiamine level as other meats and while the thiamine status of subjects on the control diet and exercise program declined over time, the thiamine status of subjects on the pork diet was maintained throughout the study.
Next Generation Scientists
Several Pork CRC supported students participated in the 2010 PPPE Day One Plenary Session, titled 'Next Generation Scientists', where they showcased their undergraduate and post-graduate studies and research.
They included University of Queensland PhD student Mitchell Groves, who is developing techniques to detect and characterise zoonotic bacteria in pigs.©
His research aims to improve pig disease diagnostics and worker safety, while boosting consumer perceptions of the quality and safety of pork products.
University of Adelaide
Dr William van Wettere, awarded a Pork CRC post-doctoral fellowship in 2006, now manages six Pork CRC supported students while also lecturing at the University of Adelaide, outlined his experiences in the pork industry and where he believes he can contribute.
According to Dr Campbell, the Pork CRC eagerly anticipates developing the platforms required to make the changes Australian pork producers need.
"While our farmers produce pork with similar efficiency and cost effectiveness as their peers overseas, change is inevitable and the Pork CRC commits to work alongside producers to innovate to meet the challenges for next generation pork."
Campbell described the 2010 PPPE as an outstanding success and he congratulated the organisers, attendees and sponsors, in particular APL and 2010 PPPE Chairman and Pork CRC Board Member, Dr Robert van Barneveld.
Related websites:
• Pan-Pacific Pork Expo 2010
• Pork CRC