Over 1,000 PIC breeding pigs head for San Miguel Foods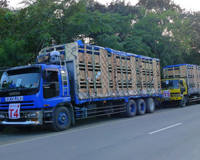 PIC Philippines has flown in 1,317 GGP and GP breeders from Canada to stock the first phase of the newly constructed 5,000-sow unit of San Miguel Foods, Inc. (SMFI) in Quezon province.
Setting a new record for the largest single airlift of breeding stock into the country, the Boeing 747 charter landed in Manila on 22 February. This is the first of two full plane loads of the latest high health PIC genetics scheduled for delivery to SMFI this year.
Sourced from PIC's genetic nucleus in Saskatchewan, Canada, the animals went through rigid quarantine and health control procedures that prepared them for the 7,000-mile journey. Upon arrival at Manila, 14 trucks queued up to receive the crates by forklift, with the PIC and SMFI teams refilling the drinkers and feeding ice cubes into the crates. 13 of the trucks then headed off to SMFI's farm in Tagkawayan, Quezon, while one truck took 50 breeders destined for Cecilia Stock Farms, a PIC nucleus unit, to an air cargo charter for a flight to Davao in the southern island of Minadanao.
Dr. Gizelle Guzman, PIC Quality Assurance and Genetic Dissemination manager, explains, "Permits have been secured months before, and strict bio-security measures were taken to ensure that the planes, the trucks, the people involved, and the receiving farms will not pose any risk to the health of the animals. We had to make sure that the PIC genetics were in optimum condition for them to achieve their maximum potential."
The newly imported stocks have undergone one month of acclimatization, and blood collections have been processed for serological testing. The prescribed one-month quarantine was also recently lifted by the Bureau of Animal Industry's provincial vets. Further, these animals will be part of the global network of millions of PIC genetics recorded on PICtraq™, the industry's largest genetic database where PIC stores p
erformance information 24 hours a day from nucleus and multiplier farms on every continent. PICtraq™ links the genomic, performance and pedigree information of all ancestors and relatives, including the global movement of genetics.
Strengthen partnership
The second Boeing 747 of PIC genetics will complete the stocking of the first phase of the new SMFI unit and play a major role in driving SMFI's long term expansion plans. These importations strengthen both companies' partnership and commitment to total farm-to-fork quality.
SMFI, a subsidiary of San Miguel Purefoods, Co. is the largest pork producer and quality meat retailer in the Philippines with its renowned Monterey Meatshop brand while PIC, a subsidiary of UK-listed Genus PLC, is a leading swine genetics supplier serving producers in 30 countries for 50 years.
Related websites: