NZ: Pig industry responds to welfare claims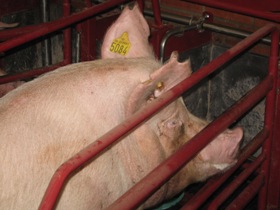 The New Zealand Pork industry has been quick to respond to comments regarding the airing of TV programme exposing cruel practices in the pig industry.
The New Zealand Pork Industry says the Sunday programme on pig farming is not representative of the pork industry as a whole and supports the investigation of the farm at the heart of the story.
TVNZ aired a story in which Comedian Mike King along with animal activists from SAFE, broke into a crate pig farm. The TV programme received immediate feedback from viewers. "I am shocked that pigs are farmed in such an appalling way. The images were some-what disturbing and this is definitely a case of animal abuse! I am so disgusted by the conditions they are kept in," says one user.
Agriculture Minister David Carter is urging animal welfare group SAFE to reveal the location of the farm used in the programme so it can be inspected by Ministry of Agriculture and Forestry animal welfare investigators.
The NZ Pork Industry released a statement saying they support the Minister's call for an investigation and say the practices on the farm where the hidden camera investigation was carried out, are not standard.
"The pork industry is phasing out long term use of sow stalls. We are more than half way there as an industry. The process will see the time reduced to four weeks which is in the interests of the sow – this is supported by scientific research," the statement says.
But for the SPCA a complete ban on sow stalls can't come soon enough and that farmers who use the stalls and farrowing crates are "behaving in a totally inhumane and unacceptable way."