Fish, rather than livestock, formed Erik Visser's first close encounter with feeding the planet. His grandfather used to own a trading company in freshwater fish in a region north of Amsterdam, the Netherlands. During the weekends, his parents would help out with processing and cleaning the fish that had been caught in the IJsselmeer, a lake the Dutch reclaimed from the sea. So there young Erik was, spending his Saturdays and Sundays surrounded by barrels full of eels.
Gradually, he recalls, the trading company changed course. Visser explains. "I witnessed the family business slowly going downhill. Over the years, bit by bit the freshwater fish had disappeared from the IJsselmeer. So the company's portfolio had to be expanded with saltwater fish. Nowadays there is only one auction left around the lake – and the overall fishing fleet has been reduced drastically."
Several decades later, in 2017, the well-travelled businessman Erik Visser is CEO for Belgium-headquartered global feed additives company Nutriad – and he has no intention of leaving anytime soon. The experiences from his childhood echo in his views on sustainable agriculture – and explain his fondness for aquaculture as well.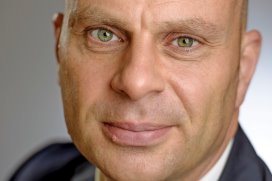 BIOGRAPHY
Erik Visser, 47, has been CEO for feed additives company Nutriad since 2010. The Dutchman studied Law and Management Science in Amsterdam, the Netherlands, after which he spent 12 professional years in various countries in Latin America. He held various management positions within the chemical company Brenntag in Guatemala, Honduras, Costa Rica, Colombia and Venezuela. Returning to Europe in 2008, he accepted a management position at the feed additives company of Provimi, prior to joining Nutriad.
Pig Progress: What is your take on aquaculture?
Erik Visser: "Aqua is still a fantastic world of pioneering. Enormous progress has been made in development of monogastric production over the last 20 to 30 years, but aquaculture in fact has just kicked off. The business is full of curious people, they are great zealots and very driven. When I had just joined Nutriad, aquaculture was only a side business, it was the odd one out, but I always believed in it. Not only do our products focus on solutions for health and nutrition across all species, but also our products eventually go to the same type of customers: the feedmills!"
What explains your passion for agriculture?
"Both animal husbandry as well as arable farming are down-to-earth, no-nonsense business industries. That suits me well; I grew up with a similar attitude. My passion goes beyond just agriculture, it's a combination of agriculture and its people. You can see it in the people we are dealing with: they work with live animals, they love the animals, they don't call it a day at 4 pm. They will go on, that's just part of their DNA. That same DNA can be found in the people in my company."
Is it yours too?
"I also have an enormous drive and passion myself; I believe that there's only one way to do this job: with full conviction and full dedication. I don't think there is a power button to switch myself off. In my entire life, I've never filled out an out-of-office reply – wouldn't even know how to do that. As we are doing business all over the world, it simply means that always someone somewhere will be awake."
Are we capable of feeding over 9 billion people in 2050?
"Yes. I think Nutriad can be part of that solution by helping to produce more sustainably. We should, however, not have the illusion that we can do that on our own. An industry-wide commitment is needed. The world population will double in the next decades, increasing wealth – even if only marginally – will accelerate protein demand and on top of that climate change will affect our industry. It will be an enormous challenge to meet those demands, and that challenge is even bigger if we want to achieve that with more natural or organic products and a reduced usage of antibiotics. I do think that the sector is sufficiently innovative, but a lot of cooperation is required."
Does that also mean: eating less meat?
"I don't think that that's unrealistic. Nowadays there are already quite a lot of so-called 'flexitarians' (part-time vegetarians, ed.). I think that is a consumer driven development, as part of the process of being able to continue to feed a growing world population. Next to responsible production and responsible use of resources, there should also be something like 'responsible protein consumption'. That is where more awareness is needed: increasing production in a sustainable manner, reducing the use of antibiotics and allowing for more animal welfare implies a different kind of price setting for consumers, that should benefit the entire production chain. It is simply essential to be able to drive and implement innovations."
How has Nutriad changed over the years?
"Nutriad used to be a technical company, we just always wanted to make sure that everything was 100% perfect. There was a strong feeling that as long as we could provide the right level of technical support, customers would buy automatically. However, being right technically does not always lead to practical solutions. What I have been emphasising is how to best use our knowledge and convert it into a workable application for customers.
"It was also important that the Nutriad brand would inspire more confidence, we would share information and be more visible. Not only is that important for customers, but also for employees. We want to hire the best people out there. We do not only interview them, they also need to ask us questions and do research on us to determine whether or not they would like to work with us. Creating a team with a common commitment is critical to what we want to achieve: take leadership in the feed additives market."
How would you describe Nutriad nowadays?
"We are big enough to cover the world, but we're small enough to care – I think that nicely sums it up. We make sure that we continue to be very close to our customers, we still have the size to be able to do that. Eventually we will become bigger in a consolidation battle that no doubt shall come in the future, but even by then this would be one of the core assets we would like to keep. We would just like to be able to find each other easily within the company – and we would also like to remain easily accessible for customers."
What role will Nutriad play in that consolidation battle?
"In the market there is vertical and horizontal consolidation. In vertical integration, I see potential conflict, when premixers and feed mills acquire feed additives companies or the other way around. It would mean we would become both supplier as well as competitor of our own customers. When looking at Nutriad I would say we would aim for horizontal integration. That means integrating other kinds of feed additives. There are many start-ups working on interesting developments but lacking access to the market. We could make a nice fit."
Can we expect a takeover in the years to come?
"In the medium term I would say yes – in 4 to 5 years."
What kind of consolidation opportunities could you think of?
"For now it is only speculation, but it could be a species specific takeover – at the moment we are starting to develop our market share in ruminants. So from that perspective ruminants would be interesting. It could also be an opportunity to strengthen our position in certain countries and then I think Asia Pacific comes to mind as an interesting growth market. Thirdly, it could be to further develop our existing product groups, accelerating access to the many developments in health and nutrition for young animals. The opportunities are endless and it will depend on what is available in the market as well as the budgets what we can do."
What are your thoughts on the US market now antibiotics are on their way out?
"This market is growing. As from January 2017, a new Veterinary Feed Directive has come into effect that has veterinarians facing stricter rules with regard to antibiotics. I do not think that antibiotics will completely disappear; it is about reducing excessive usage and lowering antibiotics intake. Our butyrates, botanicals and organic acids are doing well in the States. In the past producers would debate on the use of a single feed additive, now we are being asked to consider which combinations of additives would work best for them.
"We do not know whether the Trump administration will change some of the regulations. Nevertheless, much will depend on consumers. The political wind will at most decide how things will eventually be translated into formal rules. The consumers' drive cannot be stopped, I think that will prove to be a far more important factor than legislation."
More about Nutriad
Nutriad, headquartered in Dendermonde, Belgium, originates from the Belgian Inve group of companies. The feed additive manufacturer divides its portfolio into palatants; digestive performance enhancers; mycotoxin management products; and preservation & functional ingredients. Main products include mycotoxin, flavour and butyrate solutions. Roughly 70% of the company's products are being used in monogastric feed, about 15% aquaculture, 10% ruminants and the remainder is being used in feed for a variety of species, from rabbits to horses and ostriches to camels. In terms of turnover, about 40% of its products are sold in Europe, 25% for North America, 20% for Asia and 15% for Latin America. The company sells in over 80 countries worldwide and has offices in various European countries, as well as in the USA, China, Mexico and Brazil. Products are being manufactured in Belgium, Spain, UK, China and the USA.