NPPC: US swine industry will lose another $800m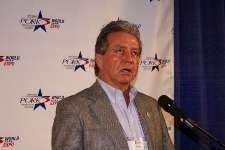 The United States swine industry will lose another $800 million until the end of the year, National Pork Producers Council (NPPC) president Don Butler predicted at the World Pork Expo, in Des Moines, Iowa.
Butler made his remarks at the Expo's opening press conference, focusing on pork economics.
He spoke of the devastating effect of the recent H1N1 outbreak, in March and April, exacerbating an already difficult economic situation for producers, after a feed crisis and a financial crisis.
"Just when things were looking up – we had good Easter ham sales and we were entering the grilling season – this flu was misnamed 'swine flu'," Butler said.
Economic picture
He drew an economic picture in which market prices per head dropped to a low of $112.16 on May 5, the 'low-point for post-influenza prices'. Prices of production averaged at $142.49/head. Using already known formulas, he calculated pessimistic outlooks for the rest of 2009.
"Using May 22 closing corn and soybean meal prices and the production parameters of Iowa State University's Estimated Costs and Returns series, the average producer will lose $12.22 per head for the remainder of 2009. That translates to an average loss of $25.6 million per week – a total of $794 million – for the US pork industry for the remainder of 2009."
The results of this outcome are not difficult to guess, said Butler, quoting leading economists: the US sow herd needs to be reduced by about 3% – in addition to the 3% reduction the US already had.
Pork prices
Neil Dierks, CEO, NPPC, added that up until recently, market prices had not been the major problem for producers as they have been relatively good during and after the feed crisis. High production costs, e.g. feed prices were causing the most problems in the last couple of years.
Related websites:
• World Pork Expo
• National Pork Producers Council (NPPC)
©