NPPC: US pork producers praise FTA with Columbia, new pork export opportunities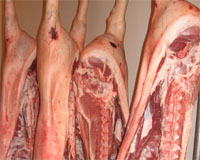 The National Pork Producers Council praised the Obama administration for concluding a free trade agreement with Colombia, paving the way for congressional approval of the deal later this year.
"We are very excited about this agreement because it will provide significant new export opportunities for U.S. pork producers," said NPPC President Doug Wolf, a pork producer from Lancaster, Wis. "We're grateful to the administration for finalizing the Colombia FTA, and we urge it to send the deal to Congress soon and urge lawmakers to approve it before their August recess."
The Colombian National Congress overwhelmingly approved the trade agreement, which, when approved by the U.S. Congress and fully implemented, will add $1.15 to the price producers receive for each hog marketed, according to Iowa State University economist Dermot Hayes. The agreement will increase U.S. pork exports to the South American country by $68.9 million and help create 919 U.S. pork industry jobs.
Many U.S. food and agricultural products will become eligible for duty-free treatment as soon as the agreement is approved, and the remainder will receive duty-free treatment on full implementation of the FTA. The agreement also will eliminate other barriers to U.S. exports, promote economic growth and expand trade between the United States and Colombia, which has the third largest economy in Central and South America.
NPPC, which leads a coalition of agricultural organizations in support of the trade agreement, has pointed out that while the U.S. has delayed implementation of the Colombia agreement, U.S. agricultural industries, such as grain and wheat, have lost enormous sales to Argentina and other South American countries. Additionally, Canada recently concluded an FTA with Colombia that will compound U.S. sales losses.
Iowa State's Hayes estimates that, if the U.S. fails to implement its agreement with Colombia and Canada moves ahead with its deal, the U.S. pork industry will be out of the Colombia market in 10 years.
"The U.S. is the number one global exporter of pork and the low-cost producer of pork in the world, but we cannot compete with countries that have zero tariff rates on their exports. We must implement our pending FTAs to remain competitive," Wolf said. "Pork producers also support the Korea and Panama FTAs and urge the administration to send them to Congress to be approved by this summer."