NPPC eyes restoring pork exports to Russia, China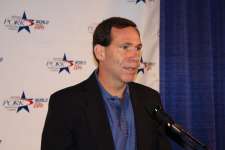 Once more, the US National Pork Producers Council has urged all countries to lift their bans on US pork, when H1N1 is claimed to be the major reason for them.
At a press conference during the World Pork Expo, in Des Moines, Iowa, Nick Giordano, NPPC vice president and counsel, International Trade Policy, restated that there is 'no scientific background' to ban pork imports on the basis of influenza A (H1N1), in an earlier stage referred to as 'swine flu'.
Russia & China
Giordano repeated that Russia and China constitute the main concerns for the NPPC.
The Russian ban is not complete, Giordano explained, as pork from only ten US states has been banned. At the expo, however, he received signals that the ban would be lifted early June for all states except Arizona.
©©
The Chinese ban is complete, Giordano said. He also mentioned Ukraine and Thailand as other countries banning US pork due to the H1N1 outbreak. Behind the scenes, he assured, the Obama administration is doing all that lies within its power to get rid of the bans – "and we appreciate that. Pork producers have really benefited from the trade."
Reasons
Giordano was hesitant as to name the real motives for both the Russian and the Chinese bans.
"We have had market access issues for quite a few years with them. As for the Russians, they could be protecting their own producers. In China, many producers received a lot of subsidies to rebuild their herds," he said, referring to last year's pork crisis in China, when disease complexes ravaged the existing pig herd, eventually leading to pork shortage and inflation.
Export power
Last year, exports grew tremendously for the US, already the world's number one pork exporter. The year 2008 saw a rise of 55% in comparison to 2007, which is 'unbelievably good'. Export growth was driven by demand from China, Russia, Canada, South Korea and Mexico.
Until March this year, sales had been going well too. It is expected that the future of US pork will remain unvariably positive.
Related websites:
• National Pork Producers Council (NPPC)
• World Pork Expo©
©