Now online: Pig Progress features farm of the future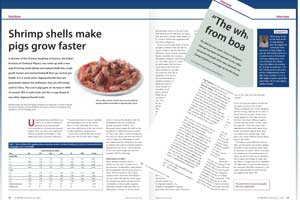 More sows walking around freely in the first edition of 2013! Pig Progress discusses a concept farm of the future by Big Dutchman and had a sneak preview in a farm designed according to these futuristic ideas.
Being in-between large global shows, this edition looks back to EuroTier in Hanover, Germany – and also looks ahead to VIV Asia in Bangkok, Thailand.
And ever wondered if it is possible to feed shrimp shells to pigs? Don't miss this issue!