Now online: Boars & alternative growth promotion in the spotlight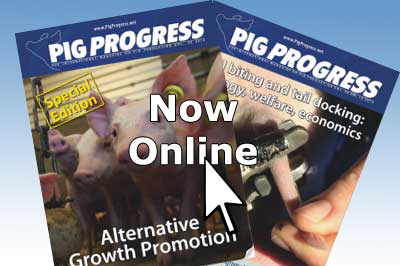 Pig Progress number 10 and the long anticipated special Alternative Growth Promotion are now available online.
'Boars' is the buzz word in the number 10 issue of Pig Progress, as there are so many questions to be solved. Raising boars, after all, evokes questions of feeding boars separately from gilts – but what is a good boar-specific diet? And can we reduce the chances of boar taint occurrence by giving smart nutrition?

The French also recently organised a congress about this topic and Pig Progress was present to report the French views on it. And if boar finishing would not work out in the end? Well, then there's always immunovaccination, as a Flemish pork producer will testify.

Other reviews will look back to Agromek in Denmark and Biomin's World Nutrition Forum in Singapore.

Following the success of Piglet Feeding the new Special Edition focuses on Alternative Growth Promotion.

The magazine covers a broad range of topics – a history of antibiotic use, up-to-date views from the US to China on what could be the best strategies to promote growth – and what place there can be for usage of antibiotics in 2013. In addition, management and animal health approaches and of course plenty of nutritional advice how to achieve good performance without the use of antimicrobials.

The 48-page issue is not to be missed by anybody who would like to be fully updated with the latest developments in international swine production.

Check them out….