NL: About 30% of pig farms expected to quit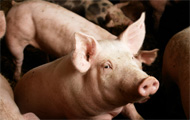 In the coming years, 30-35% of the pig farms in the Netherlands is expected to quit business, the Dutch agricultural newspaper Agrarisch Dagblad reports.
Several sources within the industry have reported this, when being involved in drawing up future proof development plans for the industry.
Animal husbandry farms had to submit a development plan, before April 1. In these plans, the farms have to report how they plan to deal with legislation with regard to ammonia odours.
Advice bureau DLV-intensief is mainly focusing on the larger farms, but still Paul Bens, director, agreed around 30% will quit the pig business.
Slat sizes
Spokespeople from Dutch animal nutrition companies ForFarmers and Rijnvallei expect the percentage of producers shutting up shop could even be higher. "A lot depends on what will happen to slat sizes," it was commented.
Frank Steenbreker, financial advice bureau Abab, said 20-25% will be closing down. "About 60% of the current farms can deal with IPPC and do not have to submit a plan. For the remainder of the farms, that have to submit a development plan, I expect half of them might stop."
Dutch agri- and horticultural organisation LTO does not have a wider national picture, but its chairwoman Annechien ten Have emphasises the emotion that could lead to certain decisions. "These are often forgotten."
Related websites:
• Dutch Agri- and Horticultural Organisation (LTO)
• DLV Intensief©(in Dutch)
• Abab©(in Dutch)
• ForFarmers
• Rijnvallei©(in Dutch)
• Agrarisch Dagblad©(in Dutch)