New Zealanders demand home produced bacon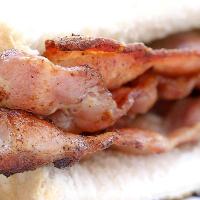 New Zealanders know nothing beats a rasher of 100% New Zealand bacon. And this fondness for the home product was clearly seen at the Lesnies 100% New Zealand Bacon Competition this year. Only open to bacons produced in New Zealand using its own pork, the competition's first prize was won by the Heller butchery of Christchurch, South Island.
Heller's exhibited tasty Danish bacon and took out the national prize triumphing against fierce competition from 232 other bacons. Heller is a fourth generation butcher, and says consumers are demanding New Zealand bacon.
Customer demand
Lesnies is a supplier of meat and food processing products and major sponsor of the New Zealand Pork Industry Board's bacon competition. Industry body, New Zealand Pork, says the competition evolved from an increasing consumer demand for 100% New Zealand bacon, and also the inability of customers to identify bacon made from New Zealand Pork on the shelf.

More than 100 bacon producers from around the country entered the bacon competition across four categories: Middle, Shoulder, Streaky and Danish. Murchison Meats from took out the Middle bacon category, Elite Meats won the Shoulder bacon category, Franklin Country Meats clinched the Streaky bacon category, whilst Heller Tasty wrapped up the competition by winning the Danish bacon category.
High standard
Steve Logan – head judge, Wellington restaurateur and television chef – says the judges were blown away by the high standard of the entrants. "Across all categories, entrants' bacon exhibited an extremely high standard of taste, texture and smell that proves how great our country's bacon is.The winner tops a very fine heap and was awarded the title for producing a unique tasting, well-rounded bacon," Mr Logan says.
Sam McIvor, New Zealand Pork CEO says consumers know about the 800,000kgs of foreign pork that's arriving in New Zealand every week last year, and they want bacon only made from New Zealand pork. "With this competition we've found the best of the best. You can't beat the quality of our home-grown bacon! This year has been great and we're already planning the 2009 competition to be just as exciting, tasty, fresh and challenging!"
Related Website
•
New Zealand Pork
Subscribe here to the free Pig Progress newsletter