New pork cuts appeal to meat processors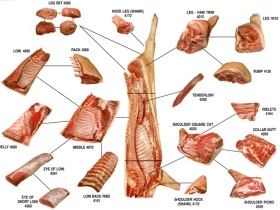 When the members of the American Association of Meat Processors (AAMP) gathered in Omaha this summer for their 70th annual convention, they weren't interested in sitting through the same old presentations.
During the meat fabrication demonstration, which showcased different ways to fabricate the pork carcass, primal and subprimal cuts to create value cuts from the fresh leg and long shoulder, the Pork Checkoff provided plenty of innovative ideas and food for thought.
"PowerPoint presentations are okay, but our members are really receptive to seeing demonstrations conducted right in front of them," says Jay Wenther, executive director of the AAMP, North America's largest meat trade organisation. "It was good to have the Pork Checkoff involved, because they provide a whole spectrum of valuable information to help our members provide the cuts that their customers want."
Stephen Gerike, national foodservice marketing manager for the Pork Checkoff, demonstrated the pork cap steak, ham eye, pocket roast, pig wing, pork breast and collar butt during the meat fabrication demonstration.
"The key message was how value can be added to the fresh ham and shoulder primals by merchandising new cut options for consumers," says Gerike, who presented the one-hour workshop for more than 100 member operators from across the nation. "It was very well received, and members spent 30 minutes after the presentation asking questions and getting more information."
This was the first time that the Pork Checkoff was invited to address AAMP members, who are part of North America's largest meat trade organisation and have been bringing safe, wholesome, quality food to America's tables since 1939. AAMP's membership includes more than 1,700 medium-sized and smaller meat, poultry and food businesses, including mom-and-pop meat lockers, packers, processors, wholesalers, in-home food service business, retailers, deli and catering operators, and industry suppliers.
"Our members are always diversifying and seeking ways to give their customers more options, and this demonstration from the Pork Checkoff provided our members with great insights on new ways to fabricate a hog carcass," Wenther says.