New handbook for pork producers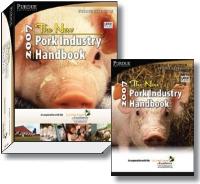 A new handbook on the pork industry has become available for producers, educators and agribusiness owners, looking for the latest information on pig prodution.
The 2007 Pork Industry Handbook, presented by Purdue Extension and the US Pork Center of Excellence, is an effort that includes pig experts from Purdue and across the US to provide information on topics like production, management, health, environment and finances.
Some of this information includes ways to improve rate of gain with current research on breeding and genetics, pig nutrition and health, reproduction and pork quality.
Other topics covered are human resources, animal behaviour and welfare issues, business and financial management, marketing, pork safety, youth projects, worker health and safety and statistics.
The handbook is available in a 1,296-page, black-and-white print version for $90 or on a full-colour DVD for $45. A set of both versions is available for $115. All three can be ordered by completing this order form.
Related website:

For the latest pig news subscribe here