New Foot-and-Mouth disease case at pig farm in the Eastern province in SK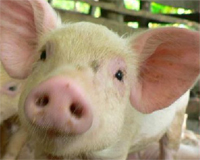 In the midst of the Foot-and-Mouth disease (FMD) outbreak in South Korea, a new case of FMD has been reported at a pig farm in Gangwon Province (East of South Korea), the Ministry for Food, Agriculture, Forestry and Fisheries has stated.
First pig farm in the Eastern province
According to a report by The Korea Times, the pig farm, which has tested positive for the deadly disease, is the first pig farm in the Eastern province reported to have been confirmed with the disease. With this recent FMD outbreak, the number of cattle and pig farms infected has reached 12.
The President, Lee Myung-bak, urged the military to help the government deal with the spread of the disease.
Thus far, the government ordered:
·
culling of over 549,000 animals.
·
vaccination of 227,000 animals at 8,570 farms across the country.