Nebraska's statesman Adrian Smith a 'Friend Of Pork'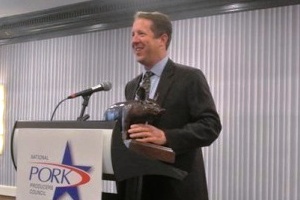 The National Pork Producers Council have presented House of Representatives member Adrian Smith, a Republican congressmen representing Nebraska, with the "Friend of Pork" award at its fall legislative conference.
The award is reserved for members of Congress who demonstrate a strong commitment to and continually work to advance the US pork industry.
Smith, a sixth-generation Nebraskan, representing the nation's fifth largest hog-producing region, has been a very strong advocate for pork farmers here and abroad. He is co-chairman of the House Modern Agriculture Caucus and has hosted animal welfare briefings to educate members of Congress and staff on food-animal production practices. Smith also has been helpful in reining in heavy-handed US Environmental Protection Agency regulations on livestock producers.
He urged US Trade Representative Ron Kirk to get Colombia to remove its costly and non-science-based trichinae mitigation requirements on US pork and to make sure agriculture is included in the talks being held by a US-European Union working group that's considering a US-EU free trade agreement.
"America's pork producers have no better friend in Congress than Congressman Adrian Smith," said Nebraska Pork Producers Association President-Elect Jan Miller. "Adrian's rural Nebraska roots are the basis of his strong common sense agriculture values."
Related website
NPPC