Moving towards clear health plans in the pig industry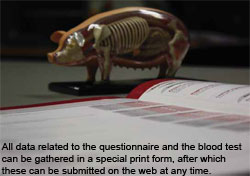 Fighting respiratory diseases in pigs can sometimes be a matter of trial and error. Subclinical infections, different diseases with identical clinical signs, co-infections and incorrect diagnosis may make disease management a costly business. An integrated, recurring audit can help organise the chaos of information – and thus smoothen the way towards solution and prevention.
By Vincent ter Beek
Once upon a time, a veterinarian was a jack-of-all-trades. He knew what to do when a cow had suddenly fallen ill, why the ducks had ceased eating, why egg sizes were too small and how to treat a diarrhoea outbreak in a pig population. Those were the times when farms used to have various species of animals in reasonable populations – and when it was sufficient to have a broad general knowledge about all animals as a veterinarian.
This picture, however, has been changing over the years in various ways. Not only have farms increased in size; they also professionalised in many ways. This development was mirrored in a changing role of veterinarians. In current-day veterinary practice, in-depth knowledge of one species is often more than enough to keep vets busy – and apart from that the whole concept of animal health has been redefined. No longer is the emphasis on curing but the picture has broadened immensely. Being a veterinarian has evolved into a broad-scale picture with an emphasis on prevention, management and nutrition affairs, and preferably staying away from antibiotics use as much as possible.
Bert Cornelis, age 43, veterinarian at animal health centre De Kempen in the town of Bergeijk in the pig-dense South of the Netherlands, fits into this picture. Active in the business since 1994, he spends the vast majority of his time (80%) with pig clients. Apart from that, about 15% of his time he works with dairy cattle, and especially tennet stomach issues – which he considers to be his 'hobby'.
Visiting pig farms – and constantly trying to advise farmers how to improve their health status, Cornelis knows by experience that dealing with diseases on farms can often be a story of trial and error, which involves both time and money.
"In case there's coughing in any pig house but a vet doesn't have a diagnosis tool, the clinical signs could match a variety of diseases. Theories on the basis of probability have to help you find these, in combination with serology lab reports."
He continues, "Often, when a correct diagnosis cannot be made immediately, the Dutch Animal Health Service or any other independent institute is approached. Just in case any pig farmer would like to have blood researched from five pigs for five possible infections, this may cost a few hunderd euros. This may easily take ten days in which the disease can evolve and possibly spread further."
Presentation
In late 2007, Cornelis and a number of other specialist pig veterinarians, were invited to a presentation of ResPig, a novel audit and monitoring concept, introduced by Intervet/Schering-Plough Animal Health. "The concept appealed to me straightaway – and I started to register several pig farms for the audit programme. About one year later, several hundreds of pig farms nationwide had registered – and more followed throughout 2009," he explains.
The system consists of a complete screening of a farm production site, including a questionnaire and a lab test, which usually is repeated every six months. For more information, See Box: 'ResPig – a tool for better respiratory diagnosis'. Filling out the questionnaire, Cornelis explains, can be a rather tedious exercise when performed for the first time – as veterinarian and pig farmer need to sit together and answer all kinds of audit questions related to risk factors and clinical signs. This part, however, will speed up after the questionnaire is filled out after the second time as the majority of the answers may not have changed – or producers may be better prepared and have answers right at hand. A quick walk through the pig house may thus be sufficient to update the data.
Strategic decisions are made once results of the questionnaire and laboratory can be seen together. The tool considerably helps him in his job, Cornelis explains. "When using the audit, in combination with regular laboratory testing, diagnosing has become easier. Veterinarians can make better use of their knowledge – and thus apply animal health products more conscientiously.
He often uses the mathematic equation: 1+1 = 3. "Both elements on the left are the laboratory test and what we see and fill out in the pig house." Without interpretation, however, these data remain just information – the data need to get a meaning and measures need to be developed. "The input of the veterinarian is the third element and creates the additional value."
ResPig – a tool for better respiratory diagnosis
Three years ago, Intervet/Schering-Plough Animal Health launched ResPig, a tool for monitoring pig herd health statuses, in order to better make quick and correct decisions related to respiratory disease outbreaks on farms. The ResPig tool consists of two parts – an audit part and an economic simulator. The audit has two parts – a general audit and a disease audit. The general audit has an on-farm questionnaire, post mortem examination results and slaughterhouse examination results. The disease audit is based on laboratory confirmation from blood testing. Both audit parts are to be repeated every six months. The on-farm questionnaire consists of audit questions related to risk factors and clinical signs. Questions cover e.g. the site security of the farm, the way vaccines are stored, average daily gain in piglets, mortality figures and clinical signs among animals – like for instance pleuritis, arthritis or atrophic rhinitis. The laboratory test includes blood sample testing from the farm's sows, piglets or finishers, taken by the farm's veterinarian. These will be sent by the veterinarian to a laboratory of choice (in the Netherlands the samples are sent to Intervet/Schering-Plough Animal Health lab in Boxmeer), for scrutinising on a wide range of respiratory diseases, like PRRS, M.hyo, App, swine influenza, H. parasuis, PCV2 and atrophic rhinitis. The veterinarian identifies any outbreak as 'not present', 'mild', 'considerable' or 'severe' and adds these results in the audit. These two outcomes together generate a report and form the basis upon which the pig farm's veterinarians, together with the animal health company can draw conclusions as to what diseases may be present on farms and what path of treatment or health strategy can be best applied. For the veterinarian to advise even better, the tool also includes an economic simulation model, in order to be able to predict the financial outcome of certain interventions. This way, producers can see for themselves how they can save money. The tool is available as an online service. For more information, please visit www.respig.com.
Case study
In a presentation, Cornelis explained about one of these farms: a Dutch farrow-to-finish operation, having 245 sows and 1,700 finishers. Gilts and sows were vaccinated for swine influenza, PRRS (live vaccine), E. coli, Erysipelas and parvovirus.
Eventually, in October 2008, only the blood sample test in the ResPig programme was conducted. Result: some M. hyo and swine influenza in late finishers. By the end of December 2008 the farm suffered from disease pressure but it was unclear as to what was really troubling the herd. There were a lot of problems. Some sows were cripple; young piglets suffered from diarrhoea after three days; meningitis could be seen in weaned piglets; finishers were suffering from influenza symptoms; some gestating sows turned out to be empty during mid- and late gestation.To solve the diarrhoea problem an additional clostridium vaccination was implemented. In addition, the farmer widely used antibiotics to fight on-farm clinical symptoms mainly to fight the respiratory problems in the finishing unit. Still, results in the breeding section were insufficient, with plenty of mummies and (too) small litters. In March 2009 mummies, dead-born piglets as well as weaned piglets were sent to the Dutch Animal Health Service in Deventer for in-depth laboratory research – which is usually a costly and long procedure.
In June 2009, a full ResPig audit (serological screening plus a farm audit) was performed and at the same moment the vaccination against PRRS on the gilt breeding farm was changed from an inactivated vaccine to a live vaccine. Dead-born piglets were sent for additional research on PRRS/PCV2. When the lab results from the farm audit came in, it showed high titres in serum for PRRS and PCV2 in late finishers; and high titres for influenza in sows/gilts (field-infection).
These results offered insights as to where to look for the solution to the series of problems. As the PRRS vaccination of the gilts was already changed this vaccination did not need adjustment. In addition, a PCV2 vaccination was already started in April 2009 at the gilt breeding farm. Next to that several management measurements were implemented related to animal flow and strict hygiene protocols. As from September 2009, the results therefore were more encouraging. Empty sows were hardly seen, mummies disappeared – and average litter size increased. Weaned piglets hardly experienced problems, with only using one antibiotic – amoxicillin. Also the respiratory problems in the fattening slowly disappeared and currently hardly any antibiotics are used in the finishing unit.
Moral
What had happened, essentially, is that this farm had started to create a health management log, Cornelis indicates.
It was the beginning of a health tracking history pattern, which creates a historical insight into what disease pressure has been prevalent or may likely occur. It takes some effort to make it work in the beginning, Cornelis says.
"As a veterinarian, I think qualities like patience, perseverance, a wider outlook and the capacity to motivate are essential to make it happen."
For Bert Cornelis the moral of this story is that the search for solutions on pig farms has been greatly enhanced. "ResPig forced me to dive into any farm's history. Filling out forms, I realised I was moving towards a clear health plan, as if it all came together. This has been an extremely pleasant experience. It has even become a challenge to fill out a conclusion correctly – and thus even beat the Intervet team."