Mixed results for China's pork imports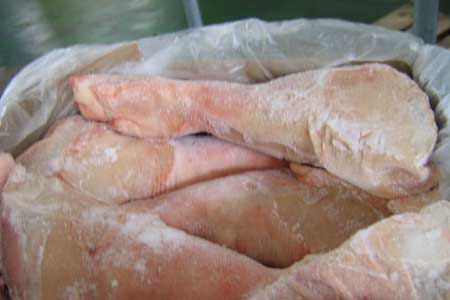 The picture for China's pig meat imports for the first half of 2014 sees mixed results as a rise in frozen and processed pigmeat offsetting a decline in purchases of pig offal.
The poultry sector which has been effected severely after a series of food safety scandals impacted on demand, imports in the first six months of the year were considerably lower.
Statistics from Chinese customs suggested that imports of beef totalled 156 421 tonnes, representing an increase of 24% on the corresponding period of 2013. In terms of key trading partners, Australia, Uruguay and New Zealand all supplied more beef, although a drop in Canadian sales saw it lose market share to Argentina. Intelligence suggests that competition is set to heat up over the coming months from the Brazilian market as China is lifting its ban on Brazilian beef.
Similarly, import demand from China for sheep meat have also strengthened, gaining almost 30% on year to reach 171 974t in the January-June period. Imports from leading supplier (New Zealand) gained a third to reach 108 876t, while Australia and Uruguay also built on previous advances.
However, despite a growing demand for red meat, China still  remains by far the world's largest consumer of pigmeat. While the bulk of this is still produced domestically, imports of frozen and processed pigmeat continue to rise, up 9% on year to reach 297 545t in the first half of the year.
The US strengthened its position as the biggest pigmeat supplier to China, increasing shipments by 57% to 78 731t. Spain overtook Germany to become the second largest supplier with shipments of 46 328t up 41% year on year.
In contrast to other pigmeat products, Chinese imports of pig offal continue to stagnate, decreasing by 3% on year to 383 237t. Again the US was the top supplier, while Spain made the biggest gain in market share, largely at the expense of Denmark, Germany and Poland.